Supporting Relief Efforts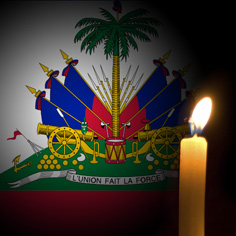 Carnegie Mellon President Jared L. Cohon released the following statement to the university community regarding the catastrophic earthquake in Haiti:
"I'm asking you to open up your hearts to do what you can to help the people of Haiti, where a catastrophic earthquake in Port-au-Prince recently ripped apart this impoverished nation.
"Several organizations are planning relief efforts, including the American Red Cross and Doctors Without Borders. I urge you to choose one or more to support in any way possible. You could also support Hospital Albert Schweitzer, operated by Ian and Lucy Rawson of Pittsburgh, which is located north of Port-au-Prince and has been in operation since 1956. You can also find ways to help at the U.S. State Department website.
"We must all pull together to help in collective or personal ways. Many groups, including our own Division of Student Affairs and our Student Government, are planning relief efforts and we'll provide more information as plans are finalized.
"This is a tragedy of global scale with as many as 3 million people directly affected, including tens of thousands of American citizens who are in Haiti.
"At this point in time we know of no students, faculty, staff or alumni in the region. For students, faculty, staff and alumni who may have family or friends there, our thoughts and prayers are with you. The university's Counseling and Psychological Services (CAPS) is available at any time should students, staff or faculty need to talk to someone. CAPS can be reached at 412-268-2922.
"Please do what you can to help. Thank you."
Related Links: Helping Haiti Week Announced  |  Student Initiatives  |  Counseling
---