Physicist Makes Pivotal Discovery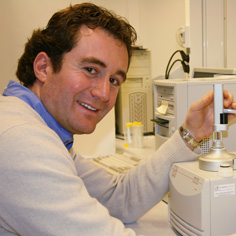 Next time you're battling the flu, you can rest assured that Alex Evilevitch is working on a cure. For the first time, Evilevitch — a Carnegie Mellon University physicist — has directly measured the energy associated with the expulsion of viral DNA.
It's a pivotal discovery toward fully understanding the physical mechanisms that control viral infection and designing drugs to interfere with the process. The breakthrough was recently reported in the Journal of Molecular Biology, a renowned scientific publication featuring original scientific research on studies of organisms or their components at the molecular level.
"I tremendously enjoy working here for many reasons," said Evilevitch. "I came to CMU because of a very strong biological physics and physical virology community in Pittsburgh. This is a very creative and inspiring environment."
At least 10 world-leading research groups are here working in the field of physical virology. Since his arrival, Evilevitch has been organizing and holding monthly meetings, where students and faculty join.
"This leads to new ideas and collaborations," he said.
Evilevitch notes that biophysics is an extremely interdisciplinary field and Carnegie Mellon has precisely that unique interdisciplinary foundation. Shortly after his arrival, he was able to become a courtesy faculty member in the biology and chemistry departments, while his main appointment is in physics.
"This allows me to supervise and hire students from any of the natural science fields as well as influence the grad student recruitment process."
The physics department has been very welcoming, he says, building him an actual Biosafety Level 2 wet laboratory for virus and cell work. The lab situates Evilevitch next to the researchers in cosmology and particle physics.
"Such a mixture of disciplines within the same department leads to new and unexpected collaborations," he said.
One of those unexpected collaborations is with condensed matter physicist Sara Majetich, who works with magnetic nano-particles.  They have started a joint project on incorporating magnetic particles into viruses.
"The idea is to use magnetic viruses for hyperthermia, where we can guide viruses into the organs that contain cancer tissue with an external magnet and then heat and destroy that cancer tissue with the help of electromagnetic radiation."
Having grown up in a family of scientists — his mother is an M.D., Ph.D., and his father was a professor in ecology and microbiological engineering — he witnessed firsthand the impact of collaborating across disciplines.
"Essentially they both worked with environmental medicine and engineering but came from completely different disciplines," he said. "Watching them work I realized how exciting interdisciplinary research can be, where it is really the scientific problem and not the discipline that is in the center."
He added, "I believe there are very few places with such possibilities for biophysics research like at CMU."
Related Links: Physics  |  Mellon College of Science  |  Carnegie Mellon Today
---