Improving Surgeries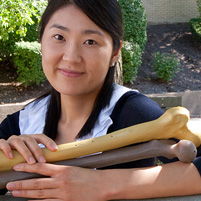 With the aging of the U.S. population, orthopaedic surgeries — like joint replacements — have increased dramatically. So have the challenges of necessary bone drilling during surgery, where high temperature and force can cause thermal injury, cracking, and even broken drill bits. This can delay recovery time or cause greater injury.
JuEun Lee believes she can help. The Carnegie Mellon University doctoral student is studying the varying mechanical and thermal aspects of the procedure in the hope of improving surgical outcomes.
"Through fundamental understanding of the bone-drilling process, my research can bring significant improvements to orthopedic surgeries, reducing unwanted complications," said Lee. "Considering the number of orthopaedic surgeries performed every year, my work will be far-reaching, impacting a significant portion of the population."
Lee is following in the footsteps of her father, having spent her childhood accompanying the mechanical engineering professor to his labs, classes and conferences.
"I was fascinated by how things work and how technological advancements affect society," she explained. "Mechanical engineering can be the basis for other studies and various applications to interrelated fields, such as medicine or even economics."
After receiving two master's degrees, Lee chose to pursue her doctorate at CMU.
"My goals were to acquire specialized knowledge in my field, to study under the guidance of world-class faculty and, among promising fellow students, to hone the skills necessary to become an effective independent researcher and to be a part of an integrated scientific community," she noted. "CMU was the school that satisfied all these things."
Lee quickly discovered she'd made the right choice.
"CMU's MechE program encourages students to approach their study with a well-balanced and interdisciplinary approach," explained Lee. 'Through this training, I feel very confident, understanding methods for approaching problems even beyond my area."
She added, "My advisors, Professors Burak Ozdoganlar and Yoed Rabin, prominent experts in mechanical and thermal areas, significantly influenced me in improving my knowledge and preparation. It was a tremendous opportunity to train under them. Furthermore, collaborating and sharing ideas with colleagues from diverse professional backgrounds provided valuable feedback for my research."
Lee was a 2009-2010 recipient of the Philip (CIT'63) and Marsha Dowd Engineering Seed Fund Fellowship, a fund established by the Dowds in 2001 to provide support for cutting-edge graduate research.
"The Dowd fellowship was a great opportunity — I could not forget the moment I was selected," she said. "I strongly feel that I also have to return this great opportunity in supporting someone who really needs my help, as Mr. and Mrs. Dowd have done. The fellowship was definitely more than financial support to me."
Lee has her sights set high. She plans to eventually combine her musical and academic expertise to develop a mechanical system with "optimized cognitive-vision," hoping to once again improve surgical outcomes.

Related Links: Mechanical Engineering | Dowd Fellowship | Lee's Page
---