Alum Thinks Up New Attractions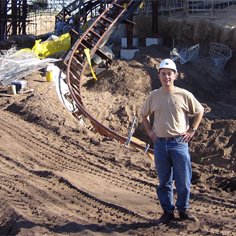 Carnegie Mellon alumnus Todd Camill (CIT '96) admits that in some ways he never had to grow up — after all, he works at Walt Disney Imagineering dreaming up new attractions for the company's theme parks. But this dream job is high-tech and serious business.
Working in the research and development group, Camill helps to solve the real-world problems associated with building futuristic rides.
"They call us when they need special effects — like a new way to make a rainbow — or when they need a robotic dinosaur," said Camill.
He spent three years with a team developing "Expedition Everest," a roller coaster thrill-ride through simulated Himalayan Mountains haunted by a Yeti. The attraction is now open at Disney's Animal Kingdom, and Camill says he likes "pushing the boundaries of technology to bring new experiences to guests in our parks."
Even as an undergraduate, Camill pushed technological boundaries with his research in robotics. He received a Small Undergraduate Research Grant to support his project, "Development of a Dynamic Bi-Ped Robot." Following graduation, Camill remained in Field Robotics at Carnegie Mellon as a research engineer, earning a Masters in Robotics. He joined the Entertainment Technology Center (ETC) shortly after it formed, helping to develop robotic animatronics.
Camill enjoys his present research, in part, because his "work gets through to the public and is seen by people." It also allows him to combine his "technical side" with his "fun, creative side."
In fact, combining his interests was one of the advantages of doing research as an undergrad for Camill. "Research allowed me to balance my academics and extra-curricular activities by combining them into something I was really interested in."
Working as part of an interdisciplinary group also provided important experience for Camill; his Disney projects might involve as many as 30 people, from robotic engineers to artists and musicians.
"You need to be able to collaborate," he said. "It's like [the TV show] 'Survivor' — you can be really good at something, but be a loner and get voted off the island. You have to get along."


Related Links: Undergraduate Research Office  |  Entertainment Technology Center  |  Robotics Institute  |  College of Engineering
---