Innovation — Step by Step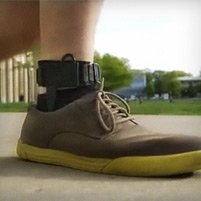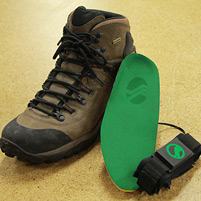 When it comes to groundbreaking innovation, everyone knows that Carnegie Mellon University students can really use their heads. But Matthew Stanton (E'12) and Hahna Alexander (E'12) — with their startup SolePower — have shown they can also use their feet.

The recent graduates have developed a shoe insole that captures the energy of walking, converting it to usable electrical power stored in an external battery. This power can be used on-the-go to charge portable electronic devices like cell phones, GPS devices and cameras.

A tiny electromagnetic generator is embedded in the insole. A charging wire snakes through the shoelaces and into a rechargeable battery attached around the ankle or clipped to the shoe. To charge a device, remove the charged battery — replacing it with a second, uncharged one if you'd like to keep walking — and plug the charged battery into any ordinary USB compatible charging port.

It all began when Stanton and Alexander teamed up to complete a mechanical engineering capstone design project. Inspired by students traversing campus in the dark, they set out to design shoes capable of illumination through the power of walking.

By year's end, the pair had realized that their unique power-generating design had greater potential than simple illumination, and expanded their target market to device recharging for outdoor enthusiasts, the military and the developing world.

The two students who'd come to CMU with no thought of starting a company decided to take their project to the next level. They turned to the numerous CMU resources dedicated to budding campus entrepreneurs.

They consulted with mentors at the Donald H. Jones Center for Entrepreneurship, Project Olympus and the Center for Technology Transfer and Entrepreneurship Creation (CTTEC) even as they both finished masters' degrees, holing up for productive weeks in the Wean Hall third-floor lounge.

"Kit Needham of Project Olympus mentored us on nearly everything on the business side because we had very little experience," said Alexander. "She also introduced us to our startup incubator, AlphaLab. And Dave Mawhinney of the Don Jones Center was amazingly helpful."

Added Stanton, "Reed McManigle of CTTEC also helped us a great deal with intellectual property issues that we knew nothing about."

To top it off, they entered and won the Don Jones Center's McGinness Venture Competition — and the $27,500 grand prize.

SolePower has come a long way in just over a year.

They've hired a full-time team member, raised more than $60,000 in crowd-sourced Kickstarter funding, will be starting beta trials shortly and anticipate a sale-ready product by year-end 2014. To ensure the product's comfort, Stanton, an avid hiker and former CMU swimmer, hiked over 60 miles wearing a prototype.

Even though Stanton hails from eastern Pennsylvania and Alexander from upstate New York, they've purposefully remained in Pittsburgh.

"We've built a huge network here of people who are able to help us, especially at CMU," said Stanton. "We're able to reach out to so many, including our professors."

"And two of our three interns are CMU students," added Alexander. "CMU is a really great resource for talent. We know the students know what they're doing."
Related Links: Kickstarter | SolePower | Donald H. Jones Center for Entrepreneurship | Center for Technology Transfer and Entrepreneurship Creation | Project Olympus | Tepper School of Business | College of Engineering
---