Innovators Forum: Vinod Khosla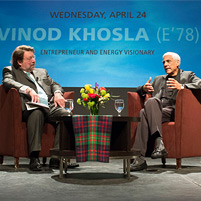 Mark Kamlet & Vinod Khosla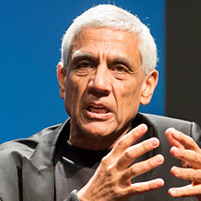 Vinod Khosla
Vinod Khosla (E'78) hates being called a visionary.

"The only thing I am visionary about is that I don't have a clue," he said. "I think where people make mistakes is to pretend they know where we are going."

The alumnus and former trustee of Carnegie Mellon University recently returned as a guest of The Innovators Forum for an engaging conversation on entrepreneurship and energy innovation led by CMU's Executive Vice President and Provost Mark Kamlet. 

Khosla is the founder of Khosla Ventures, focused on impactful clean technology and information technology investments.

An entrepreneur, investor, and technology fan, Khosla was a co-founder of Daisy Systems and founding CEO of Sun Microsystems where he pioneered open systems and commercial RISC processors.

One of Khosla's greatest passions is being a mentor to entrepreneurs, assisting and helping them build technology based on business needs.

"Shaking things up is essential," Khosla said. "Not being too conforming. And passion about what you want to do is an essential part, to me. I have a lot of disrespect for authority and conventional wisdom, and for expert opinion. I think these are all essential for being an entrepreneur."

Khosla is driven by the desire to make a positive impact through scaling alternative energy, achieving petroleum independence, and promoting a pragmatic approach to the environment. Khosla said he feels interactions across disciplines and more fundamental science is key to energy than incremental improvements in what we know. He is also passionate about social entrepreneurship.

"The capitalist system was invented when labor was the principle way earning happened. Unfortunately or fortunately, and I believe it's fortunate, the economy has moved to one driven by ideas," Khosla explained. "That's why innovation and entrepreneurship have become important. That's why I believe the power of ideas fueled by entrepreneurial energy is the single most important force in the world for good. And intellectual horsepower — real learning — has become really, really important to the fate of the planet."

As an engineering student, Khosla said, he was taught to optimize something — cost, performance, efficiency, for example.

"I actually think what needs to be done, where education needs to change for engineers and scientists, is learn to optimize for agility and adaptability," he said. "The world is changing faster and faster, and I always assume I have no way of predicting where the world will go."

He added, "You can invent the future you want. That's what innovators do."

The Innovators Forum is an exciting new series connecting the world's top innovative minds with the university community. The Innovators Forum has included talks by inventor and alumnus Jonathan Rothberg, thought-leader and author Don Tapscott and Chairman & CEO of Legendary Entertainment Thomas Tull.

Related Links: College of Engineering | Innovators Forum | Greenlighting Startups | Scott Institute for Energy Innovation
---