Here Comes the Sun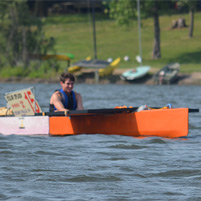 2012 Solar Splash competition
While most of Carnegie Mellon University prepares for autumn colors and snowball fights, as leader of the Solar Splash team, Nathaniel Krasnoff is focused on sunny days and constructing a solar-powered boat to race in two European regattas next summer.

Krasnoff, who will receive his bachelor's and master's degrees in mechanical engineering in May, joined the Solar Splash team as a freshman. The San Diego native was intrigued with renewable energy and transportation.

"Being from Southern California, you grow up with that huge windmill farm in your backyard," he said. "In an area that's environmentally friendly, you become accustomed to the concept of renewable energy."

While CMU's Solar Splash team provides students with the chance to compete, it also offers hands-on engineering experience and involvement in energy conservation.

"What we're really doing is showing the world that alternate forms of transportation can be reliable," Krasnoff said. "We're creating a product that fills a technology gap that has existed for ages. We're revolutionizing travel."

There are about 25 team members who work on everything from hull building to optimization. Students come from Mechanical Engineering, Chemical Engineering, Materials Science and Electrical and Computer Engineering, as well as the schools of Design and Architecture and the Tepper School of Business.

"At the end of the day, we're trying to make everybody more competent in their fields of choice, etc.," Krasnoff said. "To put more educated professionals in the workforce."

Eager to follow in his grandfather's engineering footsteps, he visited CMU to learn more about its renowned engineering program. A visit to campus and a meeting with James H. Garrett Jr., now the dean of the College of Engineering, solidified that he'd made the right choice.

A four-year member of Solar Splash, Krasnoff has re-invigorated the program with new members, building space and renewed funding.

A $40,000 "E2 Energy to Educate" grant from Constellation Energy, a retail energy supplier, is enabling the students to develop their solar-powered 18-foot-long racing boat. The team was one of 10 selected nationwide to receive the grant.

In 2012, the team competed in the Solar Splash competition in Cedar Falls, Iowa, an annual intercollegiate event with sprint and endurance races for fiberglass and carbon fiber boats. Next year, they will compete as the first U.S. delegation in the much larger Dong Energy Solar Challenge.

In addition, an invitation was extended to race in the inaugural Monaco Solar Grand Prix in July.

Like the boat where every system is interdependent, the team is pulling together to prepare.

"CMU is such a results-driven environment," he said. "If don't have anything to show, nobody's going to take you seriously. You have to bring the heat if you want to really get something accomplished.
Related Links: College of Engineering | College of Fine Arts | Tepper School of Business | All Hands on Deck | Research Grant from Constellation Energy
---