A Better Thermostat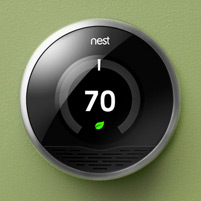 When you last looked at the thermostat in your home, you saw the temperature. 

Matt Rogers, a Carnegie Mellon University alumnus, saw an opportunity. He and his team at Nest Labs reinvented the device — and turned an industry on its head.

With the Nest Learning Thermostat, you can save energy as it learns your living habits and adjusts itself accordingly. It also just plain looks nicer on the wall.

"The thermostat is such an important part of the home and it's been neglected for decades," said Rogers.

As co-founder of Nest Labs and vice president of engineering, he oversees everything from mechanical and electrical design to cloud computing and artificial intelligence.

The thermostat Rogers and his team designed figures out when you're gone and adjusts itself accordingly, based on your living habits. It also tells you how long it will take to warm up the house and how much energy it used.

You can even control it from your laptop and smartphone.

"The thermostat is responsible for controlling ten percent of America's energy consumption," Rogers explained. "As we scale, we can have an enormous impact on that number. Imagine if we didn't need to build new power plants because of our thermostat. It's a wild thought but totally doable."

Fred Bould, a consulting industrial designer and also a CMU alum, works with the Nest team to help them develop great products like the thermostat.

"I get a huge amount of satisfaction in helping companies like Nest reach their goals and potential," Bould said. "I've seen many instances where design has had an extraordinary catalytic effect on a young company's success. It's very gratifying."

Bould is grateful for CMU professors like Mark Mentzer and Hugh Young, who prepared him to make a powerful impact in the real world.

"My drawing professor, Mark Mentzer, really helped me to develop my ability to see and understand form as a designer. And my physics professor, Hugh Young, opened my eyes to the wonder and elegance of how things work. I'm still learning on both fronts," Bould said.
Rogers is grateful for professors who nurtured his passion for research even as an undergraduate. He says a focus on team projects at the university offered him a lot in terms of practical education and preparation for real work in industry. 

Since 2004, CMU has doubled the number of start-up companies created by its faculty and students and now stands as one of the fastest growing entrepreneurial institutions in the United States.

CMU recently introduced "Greenlighting Startups," a new initiative aimed at accelerating the university's already impressive record of turning campus innovations into sustainable new businesses.
Related Links: Nest | Mashable Interview | Introduction: Nest Learning Thermostat | Greenlighting Startups | Environment at CMU
---