Promising Future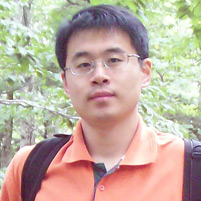 Longzhu Shen
Whenever Longzhu Shen feels drained by life's stressors, he often heads to the mountains.

The Carnegie Mellon University researcher says he is nourished there — mind, body and spirit.

"I find restoration by walking on trails, listening to the symphony of birds and insects along my path."

That path typically follows a meandering stream, which brings us to the intersection where Shen's passion meets his work.

It's these streams — and our water in general — that he aims to restore by removing pharmaceuticals and other harmful chemicals.

His chemistry experiments behind the marble walls at CMU's Mellon Institute involve TAML® activators that show huge promise.

TAML activators represent a family of synthetic catalysts.

In the presence of peroxide, these catalysts transform to efficiently destroy a wide spectrum of environmentally dangerous substances — even bacterial spores.

The promise? Cleaner, safer water for all.

"This oxidative destruction process is essentially mirroring certain enzymes in biological systems, which have evolved over millions of years to fight against all kind of toxic threats," Shen said.

He remembers his motivation to work in the field — Professor Terrence Collins' 2006 lecture to incoming grad students introducing the area of research. 

"It was one of the most magnetic and edifying talks I've ever heard in my life," Shen said, who is now Collins' advisee.

In his talk, Collins pointed out that environmental friendliness by design has been missing in our science and technology. Collins also noted the urgent need to change our traditional way of thinking.

"He followed his path of innovation with years upon years of dedication. And as a reward, TAML activators were born with promising potency to serve in the sparsely populated green remediation technology tool box," said Shen.

So far in the laboratory on real world-world samples, the catalysts have proven effective in:
degrading estrogenic compounds,
cleaning waste water from textile manufacturing effluents,
reducing sulfur compounds in diesel and gasoline,
treating pulp and paper effleuent streams, and
decontaminating lethal microbes that cause anthrax and other diseases, among other things.
Through Carnegie Mellon's spin-off company, GreenOx Catalysts, Inc., TAML catalysts are being commercialized.

Shen is developing TAML/peroxide to remove removing pharmaceuticals from the water.

Designed to be persistent and bioactive, pharmaceuticals are hard to break down and often have adverse effects to aquatic organisms upon exposure, Shen says.

"To date, my research results have shown that TAML/peroxide can potentially be applied in controlled environments, such as pharmaceutical manufacturing and wastewater treatment plants, to alleviate pharmaceutical stress in water," Shen said.

And if things go as planned, his research may mean that nature will maintain its ability to alleviate stress in us.

You might consider it the "mountain" he is climbing in Pittsburgh.
Related Links: Watch video | About Terry Collins | Dept. of Chemistry | MCS | Steinbrenner Institute
---