EPA's Top 50 Purchasers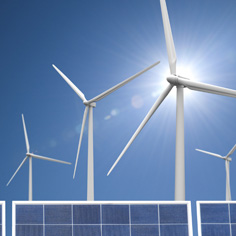 Carnegie Mellon has earned a spot on the Environmental Protection Agency's (EPA) list of the top 50 green power purchasers in the United States.
"Carnegie Mellon is committed to creating a sustainable environment through our research, education and actions," said Carnegie Mellon President Jared L. Cohon. "Nine years ago, we made what was, at the time, the largest purchase of wind-generated electricity in America. This represented 5 percent of the university's total use of electricity. Each year we have increased that pledge and are now purchasing 75 percent of our energy from renewable sources. I am honored that the EPA has recognized our efforts."
Carnegie Mellon is purchasing nearly 87 million kilowatt-hours (kWh) of green power annually, which is enough green power to meet 75 percent of the organization's purchased electricity use.
The EPA says the purchase is equivalent to avoiding the carbon dioxide emissions of nearly 12,000 passenger vehicles per year, or the equivalent amount of electricity needed to power more than 8,000 average American homes annually. Carnegie Mellon is also buying renewable energy certificates from Community Energy.
This ranking reflects the university's increased purchase of green energy and further demonstrates Carnegie Mellon's commitment to protecting the environment and building upon its existing partnership with the U.S. EPA's Green Power Partnership.
      
"EPA's Green Power Partners are raising the bar for clean, renewable energy use," said EPA Assistant Administrator Gina McCarthy. "By using green power, Carnegie Mellon University is doing its part to fight climate change and proving every day that sound environmental practices can also be economically sound."
Green power is electricity that is generated from environmentally preferable renewable resources, such as wind, solar, geothermal, biogas, biomass and low-impact hydro. These resources generate electricity with a net zero increase in carbon dioxide emissions, while offering a superior environmental profile compared to traditional power generation sources. Green power purchases also support the development of new renewable energy generation sources nationwide.
In addition to ranking 41 on the National Top 50 List, Carnegie Mellon also ranks second on the EPA's Top 20 College & University List.
      
Carnegie Mellon is committed to the study of environmental sciences and the deployment of sustainable practices, making environmental research and practices a university-wide priority.
Among its accomplishments, Carnegie Mellon is home to the first green dormitory in the United States, has eight LEED certified building projects with more under construction and presented the first course in green chemistry. Research under Carnegie Mellon's Steinbrenner Institute seeks to find answers to some of the most pressing problems facing the environment through projects in a wide array of fields, including CO2 sequestration, green chemistry, alternative energy and sustainable design.
Related Links: Top 50  |  Environment  |  Green Practices
---