An Environmental Approach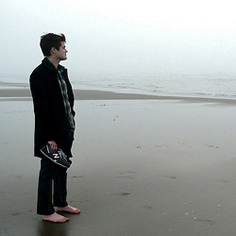 Inspired at 16 to become an environmentalist, Asa Watten (HS '08) quickly found out the many ways he could make an impact as a student at Carnegie Mellon University.
His primary focus was to throw himself into the school's wide variety of environmentally conscious courses, from history to art to political science.
"The way I got involved was to take as many interdisciplinary environmental courses as I possibly could," he said. "With whatever subject I was studying, even toward my political science degree, I would try and work in the environment. It was easy to do at Carnegie Mellon."
Case in point: In 2006, Watten communicated the urgency of stopping global warming through his Environmental Sculpture project. He set up devices that showed viewers a giant 3D cube on campus representing the volume of carbon dioxide emissions students, faculty and staff used in 12 hours.
Watten also joined the Green Practices Committee, a group comprised of students, faculty and staff, dedicated to promoting campus-wide environmental practices.
"Green Practices is absolutely making a difference on campus," he pointed out.
Discussing his projects and research, Watten noted, "What I really appreciated about Carnegie Mellon was all the opportunities that they provide students to pursue their own interests, especially with the Undergraduate Research Office."
As a sophomore, Watten received a Small Undergraduate Research Grant (SURG) to build a small wind turbine out of junk parts. He also received a Friedman internship to work with Sen. Debbie Stabenow, D-Mich. The following year, he received a Student Undergraduate Research Fellowship to study the viability of various biofuels in the Pittsburgh area. He partnered with Steel City Biofuels, a Penn State University program aimed at building biofuel use in southwestern Pennsylvania.
As Watten put it, "Biofuels can be very beneficial or they can be moderately harmful. Not all fuels are created equal."
Since graduation, Watten continues his work full-time with Steel City Biofuels, as their research and policy coordinator. And the projects keep coming.
He's working on a new venture — an environmentally conscious pizza business. Delicious Italian-style pizzas would bake in a brick oven fired using a technique called 'pyrolysis' — a wood heating method using the gas produced as fuel, and resulting in carbon-sequestering charcoal.
Watten remarked, "Who thought eating pizza could fight climate change?"
Related Links: Asa's Cube  |  Environment  |  CM Today Article
---