Earns Gold LEED Certification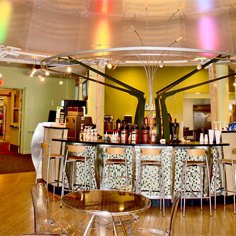 The Carnegie Mellon Café, a dining facility on the university's Pittsburgh campus, has received a Gold Leadership in Energy and Environmental Design (LEED) certificate from the U.S. Green Building Council for its energy efficiency, sustainability and use of green design principles.
Formerly known as the Highlander Cafeteria, renovations to the 9,400-square-foot café began in fall 2005 and were completed in summer 2006. The renovations included a variety of green design strategies — such as the use of sustainable materials; improving the interior air quality; making energy efficiency enhancements; providing greater access to daylight and views; and upgrading the building's overall systems.
"We took the existing infrastructure and made it more environmentally beneficial," said Greg George, an architect with Pfaffmann + Associates PC, the Pittsburgh firm that designed the renovation project.
For example, the lighting system on the second floor of the café, which houses exercise equipment such as bicycles and weight machines, employs occupancy sensors that turn the lights on and off depending on whether anyone is there.
Similarly, first-floor sensors regulate the levels of artificial lighting by measuring the amount of daylight entering the room. The lights dim when there's plenty of natural light and conversely become brighter as night falls.
The heating and cooling systems also have become "smarter." Rather than an entire space being controlled by a single thermostat, the air can now be tempered in multiple areas or "zones" as needed. George said this provides efficiencies where a single space, such as the octagonal main café area, has multiple exposures to the sun. In a similar way, new carbon dioxide sensors have been added that sense the number of occupants in a room and can provide more fresh air to the space as necessary.
George said another highlight of the project was the removal of the original five-foot wide brick piers, which "enhanced the social quality of the space" within the atrium on the first floor.
"You now have a 360-degree view outside and better interior sight lines," he said. This also allowed the natural daylight entering the multi-story atrium to better serve the space.
The café is the seventh Carnegie Mellon structure to be certified by the U.S. Green Building Council and the second to receive a Gold rating. The Collaborative Innovation Center received a Gold Core and Shell rating in 2006. Earning LEED Silver certification were the Stever House (2003) and Henderson House (2004) residence halls and buildings at 300 and 407 South Craig Street (2007). Carnegie Mellon's Posner Center was awarded a Bronze rating in 2005.
Other Carnegie Mellon projects seeking certification are the Intelligent Workplace, the Doherty Hall Phase II renovation, the 2005 Solar Decathlon House and the School of Computer Science Complex now under construction.
Related Links: Environment  |  Intelligent Workplace
---