New Engine for Intelligent Workplace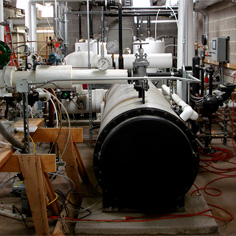 A biodiesel-fueled engine generator now powers and provides cooling and heating for the Robert L. Preger Intelligent Workplace (IW) at Carnegie Mellon University.
The generator is powered by a renewable fuel source made from vegetable oils or animal fats — and represents an exciting alternative to petroleum-based power sources for providing electricity, cooling and heating.
Designed as a living and lived-in lab the IW is a 6,500-square-foot, eco-friendly workspace atop Carnegie Mellon's Margaret Morrison building. It is designed for students, faculty and staff as a laboratory for building design and operation.
The new generator contains all the necessary equipment for a small power plant and can produce a maximum electrical output of 25 kW — enough to power about 17 homes.
"The Biodiesel Power Generation project provides an in-depth look into the use of biodiesel fuel and other renewable fuels in buildings," said Fred Betz, project manager and Ph.D. student in the School of Architecture. "The potential for reductions in pollution and cost while increasing reliability drives the work of the Intelligent Workplace and reflects Carnegie Mellon's overall dedication to innovation in green engineering, building and design."
John Wiss and Allen Robinson are the mechanical engineering faculty members monitoring the engine. Wiss teaches classes on engines and combustion, giving students a hands-on experience working in the laboratory. And Robinson provides detailed analysis of the emissions. The biodiesel fuel is provided by CTI Biofuels, LLC, a Pittsburgh-based company that uses technology created by Carnegie Mellon's Center for Advanced Fuel Technology.
Mechanical Engineering Adjunct Professor David Archer is the principal investigator for the project and Volker Hartkopf, professor of architecture and director of the Center for Building Performance and Diagnostics (CBPD), advises the faculty and staff and oversees the systems integration within the building.
The biodiesel-fueled engine generator project was developed by faculty and graduate students from the CBPD, Carnegie Mellon's College of Engineering and the Milwaukee School of Engineering's mechanical engineering department in collaboration with local contractors Wayne Crouse, Inc., and Logical Automation, Inc.
Faculty and graduate students will use the generator to experiment with the effectiveness of various types of biodiesel and to test its ability to heat and cool the building throughout the year. Their efforts will provide valuable research in the developing field of biodiesel power.
Related Links: Intelligent Workplace  |  School of Architecture  |  Mechanical Engineering
---