Space for Innovation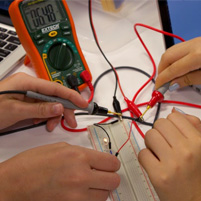 The staff at Carnegie Mellon University's Hunt Library has re-imagined ways for students to connect with new information, new media and new modes of communication for the past 50 years.

As the library becomes the hub of CMU's Integrative Design, Arts and Technology (IDeATe) program, the completion of the IDeATe@Hunt Collaborative Making Facility turns the page on a new chapter in its storied history.

The IDeATe is an initiative launching this fall under the guidance of Thanassis Rikakis, vice provost for Design, Arts and Technology.

The network draws on CMU's history of success in merging the arts and technology with the development of eight new concentrations or minors available to all undergraduates beginning in their sophomore or junior years. They include Game Design, Animation & Special Effects, Media Design, Learning Media, Sound Design, Entrepreneurship for Creative Industries, Intelligent Environments and Physical Computing.

The curriculum has been developed by 65 faculty across 15 different academic units at CMU, who have created 30 new studio-based courses. The courses immerse students in collaborative learning experiences that bring them into contact with peers from across the university. By equipping students to work across disciplinary lines, the network gives a leg up to those looking to break into creative industries such as social media, game design and responsive environments.

"The placement of the IDeATe facility in Hunt Library is part of an overall plan for the evolution of the library into a 21st century, mediated learning commons," Rikakis said. "A key aspect of integrative design is bringing together diverse teams to solve complex problems, and no university is better positioned than Carnegie Mellon to address the demand for professionals in this area."

Maker spaces are becoming increasingly common additions to libraries at top-tier research universities. Dean of the University Libraries Keith Webster said IDeATe@Hunt is unique because it offers unparalleled access to technologies students would normally gain access to as fourth year students in specific majors.

Digital and traditional fabrication labs are equipped for 3-D printing in plastic; laser-cutting in wood, plastic, matboard and cardboard; and computer numerical controlled (CNC) routing in wood, plastic and foam.

In the media lab, students can experiment with multimedia and performance. In the physical computing lab, they can explore interactive digital media, programmable electronics and robotics.

"It's really a statement of what a library can be," said Erika Linke, associate dean of Libraries. "With something like IDeATe@Hunt, you're allowed to read about something, and then do something about it. To create a prototype and to take what you've learned and actually apply it to something, it extends what it means to engage with the literature and do something."

IDeATe courses will meet in new design studios on the library's first floor. Students from across the university will have access to the glass-enclosed classrooms and some of the design technology when classes aren't in session.

The library's lower level houses the less publicly accessible — and soundproofed — fabrication, multimedia and physical computing labs. Some equipment will be reserved for students who receive training and are part of the IDeATe network.

Kelly Delaney, project manager for IDeATe, said that as classes begin, staff and faculty will take careful notes to determine the future of IDeATe@Hunt.

"[The space] is also an experiment for the faculty [at IDeATe] and at CMU more generally, just seeing what happens when you put all of these people in one spot," Delaney said.   

Webster agrees. Having spent his career observing, participating in and writing about the evolution of the library, he has observed that, time after time, the students are the early adapters and drivers of change.

"One constant is the revelation of the creativity that students bring to a new facility, where they use it in ways that had not been expected and where they transform an environment to suit their learning needs and learning styles," Webster said. "That is the period of excitement that we are moving toward."
Related Links: Integrative Design, Arts, and Technology | Nation of Makers | Carnegie Mellon Announces New Investments in Maker Education, Infrastructure and Outreach
---