Meet CMU's Tony Nominees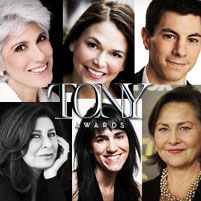 [clockwise from top left] J. DeRoy, S. Foster, P. Hylenski, C. Jones, L. Silverman, P. Wagner
Congratulations to the six alumni from Carnegie Mellon University who were nominated for the Tony Awards®, Broadway's highest honor.
At a recent post-nomination press junket, four alumni shared stories about Carnegie Mellon and what they love about their craft. Watch their full interviews.
Leigh Silverman, director, remarked: "My time at Carnegie Mellon, the people I met, the network formed, the challenges I had there — it was all part of what got me to New York."
Jamie DeRoy, producer, talked about her musical, "A Gentleman's Guide to Love and Murder." "I just thought it was so clever," she said. "It uses your imagination. It's not a $20 million set. I think it's the exciting part of what theater does and what it is."
Actress Cherry Jones reminisced, "What I learned most was the camaraderie of company. I was very close to my class. We created some pretty wonderful pieces in that wonderful old cinderblock studio theater, which we all loved."
Sutton Foster, actress, remembered taking design classes and asking a fraternity to write her and her roommates' names on the Fence. "I have a photo somewhere of that white Fence," she said. "I loved my time at Carnegie Mellon. I remember doing crazy and wonderful things."
CMU became the first, exclusive higher education partner of the Tony Awards. The collaboration creates the "Tony Honor for Excellence in Theatre Education," the first, national recognition program for K-12 theatre educators. 
Charlotte S. Martin, executive director of The Broadway League, and Heather Hitchens, executive director of the American Theatre Wing, emphasized the importance of arts education. "This opportunity to partner with Carnegie Mellon engages us to put a real focus on our own educational initiatives," Martin said. Hitchens continued, "Our mission is to make sure we have the next generation on the stage, in the audience and behind the scenes." 
"With the centennial celebration of the School of Drama, this year's Tony Award nominations are particularly gratifying. It's wonderful to see how alumni have helped shape this year's season on Broadway," said Peter Cooke, head of the School of Drama.

The 2014 Tony Award nominees are:

Jamie DeRoy (producer) (A'67)
Best Musical, "A Gentleman's Guide To Love and Murder"
DeRoy's theatre producing credits include dozens of shows. Among them are "Vanya, Sonia, Masha, and Spike" (Tony, New York Drama Critics Circle, Drama Desk, Drama League and Outer Critics Circle Award winner for Best Play) and "The Norman Conquests" (Tony, Drama Desk and Outer Critics Circle Awards winner for Best Play Revival). She also has won eight MAC Awards, four Back Stage#Bistro Awards, 10 Telly Awards and CaB Magazine's Lifetime Achievement Award for her extensive work on stage and screen.

Sutton Foster
Best Performance by an Actress in a Leading Role in a Musical, "Violet"
Foster is an actress, singer and dancer best known for her work on the Broadway stage. She has received two Tony Awards for Best Performance by a Leading Actress in a Musical in 2002 for the role of Millie Dillmount in "Thoroughly Modern Millie" and in 2011 for her performance as Reno Sweeney in "Anything Goes."

Peter Hylenski (A'97)
Best Sound Design of a Musical, "After Midnight"
Hylenski was nominated in 2013 for Best Sound Design of a Musical for "Motown The Musical." Along with "After Midnight," Hylenski provided sound design for "Bullets Over Broadway" and "Rocky on Broadway." Hylenski has designed shows for Radio City Music Hall, Carnegie Hall and Madison Square Garden. He co-produced the cast album of "Shrek, the Musical" for DreamWorks and was the sound supervisor on his fourth film for the American Museum of Natural History in New York titled "Journey to the Stars." He has been nominated for Grammy and Olivier awards.

Cherry Jones (A'78)
Best Performance by an Actress in a Leading Role in a Play, "The Glass Menagerie"
Jones (A'78) recently starred on Broadway as Amanda Wingfield in "The Glass Menagerie." She has received nearly a dozen awards (including Tony, Obie, Joseph Jefferson, Drama Desk, Outer Critics Circle, Sidney Kingsley, Lucille Lortel, Elliott Norton and Drama League awards). Ben Brantley of The New York Times has hailed Jones as "the greatest stage actress of her generation." She was inducted into the Theater Hall of Fame in January.

Leigh Silverman (A'96)
Best Direction of a Musical, "Violet"
Silverman is a director for the stage with Broadway credits that include "Kung Fu," "Chinglish" and Lisa Kron's "Well." Silverman's production of David Henry Hwang's "Wit" was featured at the Vaudeville Theatre at the West End in London. She previously directed "Yellow Face" at the Center Theater Group and The Public Theater. Silverman's New York Off-Broadway credits include "Golden Child," "The Call," "Blue Door," "Close Up Space," "Coraline," "From Up Here," "Creature" and "Hunting and Gathering" at Primary Stages.

Paula Wagner (producer)
Best Play, "Mothers and Sons"
Wagner has worked in the top ranks of the entertainment industry as a film producer, talent agent and studio executive. She is a co-founder of Cruise/Wagner Productions and produced more than 20 films including the "Mission: Impossible I, II and III," "The Last Samurai," "Vanilla Sky," "The Others" and Steven Spielberg's "War of the Worlds," for which she was the executive producer. Wagner's Broadway producing credits include "The Heiress," "Grace" and Terence McNally's Tony-nominated play "Mothers & Sons." She also was a prominent agent at Creative Artists Agency, and the CEO of United Artists (2006-2008). Additional producing credits include "Five" (Lifetime) and "The Governors Awards" ceremony for AMPAS, 2013. She has received numerous awards and recognitions for her contributions to entertainment. Wagner, who is also an alumna, serves as a Life Trustee at Carnegie Mellon University, and as an associate professor in the Heinz College. Currently, Wagner is developing films, theatre and television through her production company, Chestnut Ridge Productions.

In addition, shows nominated for Best Musical include CMU alumni. Catherine Walker (A'01) is an ensemble cast member of "A Gentleman's Guide To Love and Murder," and Daisy Hobbs (A'10) is an ensemble cast member of "Aladdin."

"The Glass Menagerie" received seven nominations. CMU cast members, along with Jones, were Zachary Quinto (A'99) and Nicholas Rehberger (A'13).

"Act One" received five nominations. CMU cast members include Bob Ari (A'71, '95) and Will Brill (A'09).

The 2014 Tony Awards, hosted by Hugh Jackman, will be broadcast live from Radio City Music Hall in New York City on Sunday, June 8, on CBS.
Related Links: School of Drama | Carnegie Mellon & the Tony Awards | TonyAwards.org | Press Release: Carnegie Mellon To Become First, Exclusive Higher Education Partner of the Tony Awards | Performing Arts Awards
---