Unique Perspective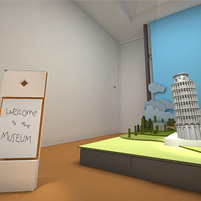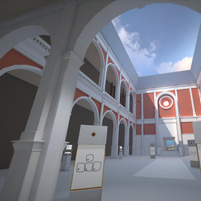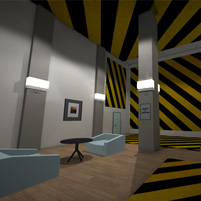 Game screenshots
Like Alice falling down the rabbit hole, size is just an illusion in "Museum of Simulation Technology," the mind-blowing new video game created by the members of Pillow Castle.

Though still in development, the game has garnered a stack of awards for the team of students studying at Carnegie Mellon University's Entertainment Technology Center (ETC).

The graduate students hope to become another successful CMU startup.

The puzzle game is based on the concept of forced perspective — an optical illusion that makes objects appear larger or smaller than they really are. It's the visual trick folks use when taking those pictures of people pretending to hold up the Leaning Tower of Pisa.

The game lets players click and grab objects near and far to shrink or enlarge them, changing perspective to manipulate the scene.

The idea was conceived by game designer Albert Shih (ETC'14) for a short class assignment. As game producer Allen Tingley (ETC'14) puts it, Shih was looking for a unique way for players to interact with a 3-D world.

Shih took on his founding teammates during their first year at the ETC. The group created a demo they displayed at gaming shows around the world.

Among other honors, the demo won "best technology" and "audience award" at the 2013 Tokyo Game Show and an early game build earned a Digital Selection at IndieCade 2014. Pillow Castle also was named one of "6 Gaming Startups Poised to Be the Next Big Thing" by Business News Daily, a short list that included Oculus VR, Facebook's recent $2B purchase.

Pillow Castle estimates about 18 months left in development. The team also is working on its fledgling startup, thanks to CMU's NSF iCORPS Site Program and Project Olympus, a part of CMU's Center for Innovation and Entrepreneurship.

"Project Olympus and executive-in-residence Kit Needham, were huge for us," Tingley said.

"Not many other teams are doing entertainment-type projects at Carnegie Mellon, so it's fun to be the goofballs at startup events when we are the serious business guys down here at the ETC."

Drew Davidson, ETC director, said that students from the program have worked with Project Olympus in the past.

"We hope to work more closely with that and other CIE resources in the future," he said.

The Pillow Castle team is grateful to be part of the CMU community, as most get ready to graduate this December.

"Our time at CMU has been very helpful," Tingley said. "We've had the freedom to explore the boundaries of our industry and find success. Jesse Schell and Kit Needham have been exemplary mentors for us, and it's been a pleasure having them to turn to for advice. There was always a passion from faculty here to help us move forward."
Schell, a video game designer, acclaimed author and CEO of Schell Games, is a Distinguished Professor of the Practice of Entertainment Technology.

"Getting attention in the indie games space is very difficult," Schell said. "The best way to succeed is to create something really unique and different. The Pillow Castle team has done just that — they have a concept that has caught the imagination of the gaming world and they are working hard to make it into something amazing. They are following the same path as World of Goo, another very successful game that originated at the ETC."
Related Links: Entertainment Technology Center | Center for Innovation and Entrepreneurship | Project Olympus | Pillow Castle Games
---