Best of What's New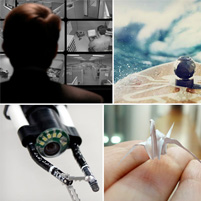 Five inventions that trace their origins to Carnegie Mellon University's College of Engineering, School of Computer Science and, particularly, the Robotics Institute, have been honored by the annual Best of What's New Awards by Popular Science.

This year's winners, published in the magazine's December issue, include Aquion Energy AHI Technology, a stationary battery that can store surplus wind and solar energy, LiveLight, a method for automatically editing out the boring parts of personal or security videos; the Flex System, a head and neck surgery tool based on snake robot research; 360fly, a panoramic video camera; and 3-D Object Manipulation Software, a photo editing tool.

"For 27 years, Popular Science has honored the innovations that surprise and amaze us — those that make a positive impact on our world today and challenge our view of what's possible in the future," said Cliff Ransom, editor-in-chief of Popular Science. "The Best of What's New Award is the magazine's top honor, and the 100 winners — chosen from among thousands of entrants — each a revolution in its field."

The editors of Popular Science review thousands of products in search of the top 100 tech innovations of the year in 12 categories: Aerospace, Automotive, Engineering, Entertainment, Gadgets, Green, Hardware, Health, Home, Recreation, Security and Software.

"Winners of Popular Science's Best of What's New Award tend to change what the future will look like," Ransom said. "This year's 100 honorees are no different: They are revolutionary in their respective fields."

The Carnegie Mellon winners are:
The Aqueous Hybrid Ion (AHI) battery was developed by Jay Whitacre, an associate professor in the departments of Materials Science and Engineering and Engineering and Public Policy. The battery relies on a salt water–based electrolyte to carry the charge. It's nontoxic, low-cost and modular, and it can't overheat. It has a long life cycle, a high capacity and it can be scaled for home use or the grid. It is a winner in the Green category.
3-D Object Manipulation Software was developed by Natasha Kholgade, a Ph.D. student in the Robotics Institute, and Yaser Sheikh, associate research professor of robotics, and colleagues. It uses available 3-D models of common objects to enable photo editors to manipulate objects in three dimensions within a two-dimensional photo. Objects can be turned or flipped in any direction, even exposing surfaces not visible in the original photo. It is a winner in the Software category.
Flex System, a robot-assisted surgical device, was developed by Howie Choset, professor of robotics, along with then post-doc Alon Wolf and Dr. Marco Zenati of the Harvard Medical School. Medrobotics Corp., a company that the trio co-founded, has begun limited marketing in Europe of the flexible endoscopic system that enables surgeons to access and visualize hard-to-reach anatomical locations in the head and neck. It is a winner in the Health category.
LiveLight, created by Eric P. Xing, professor of machine learning, and Bin Zhao, a Ph.D. student in the Machine Learning Department, is a method for automatically identifying the unique parts of videos and producing a mini-trailer of the video's highlights. They have launched a startup company, PanOptus, to develop an application that automatically summarizes security videos. It is a winner in the Security category.
360fly, formerly known as EyeSee360, is a spinout of the Robotics Institute. It is producing a rugged, waterproof and lightweight camera that provides a unique, 360-degree horizontal and 240-degree vertical view of the world. The Pittsburgh company, founded in 1998, expects to rollout the camera next year. The camera is a winner in the Gadget category.
Related Links: Movie Magic | Surgical Robot | Panoramic Vision | Animated Photos | College of Engineering | Department of Materials Science and Engineering | Department of Engineering and Public Policy | School of Computer Science | Robotics Institute | Machine Learning Department
---