Thomas Tull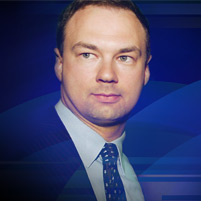 Thomas Tull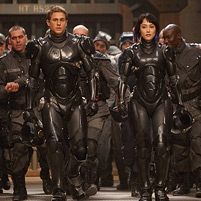 Scene from "Pacific Rim"
Human-piloted giant robots, alien monsters and a groundbreaking film producer. They were all on campus when Thomas Tull was a featured guest for the Innovators Forum speaker series. As part of the event, the founder, chairman and CEO of Legendary Entertainment and Carnegie Mellon University trustee presented an unseen clip of his film, "Pacific Rim."

Tull and Legendary, a Warner Brothers affiliate, have been behind such blockbuster hits as "300," "The Dark Knight," "The Dark Knight Rises," "Inception," "The Hangover" franchise and "Clash of the Titans."

"Pacific Rim" is a $150 million movie directed by Guillermo del Toro in which robots defend Earth from an alien attack.

Other Legendary films include the Superman movie, "Man of Steel," "The Hangover Part III" and "42," the life story of baseball player Jackie Robinson. Tull recently was named one of Fast Company's 2012 'Top 100 Most Creative People in Business.'

Raised in Binghamton, N.Y. by a single mother, Tull's modest childhood was the opposite of movie lavish. But the young fan of films, comics and video games had a future ahead more exciting than a screenplay.

Tull's start in the movie business began while he was working in venture capital with an Atlanta-based company. Finding himself next to an MGM vice chairman at an L.A. business dinner, Tull mentioned his revolutionary concept of using hedge fund and Wall Street private equity for major motion picture production.

When the executive challenged him to do so, Tull formed Legendary, raised approximately $500 million, and began a partnership with Warner Brothers to produce movies aimed at a young male audience.

In 2006, Tull, a diehard Steelers fan, came to Pittsburgh to screen "We Are Marshall" for the team and its owners, the Rooney family. They kept in touch. When the Rooneys were looking to form a new Steelers partnership in 2009, Tull was thrilled to be invited as a minority investor and is known to fly in from L.A. for home games.

The film and entertainment industry leader has previously spoken on the CMU campus to School of Drama students. His appearance with the Innovators Forum — a series that connects the world's top innovative minds with the university community — was moderated by CMU Provost and Executive Vice President Mark Kamlet.
Related Links: NYT article | The Innovators Forum | "Pacific Rim" official trailer
---