Poets on Tour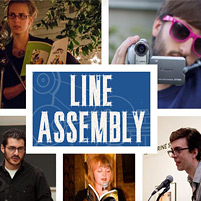 Six poets, one van and lots of enthusiasm.

That, in a nutshell, sums up the unique poetry tour that alumni from the Creative Writing Program in Carnegie Mellon University's Department of English are teaming up for this summer.

Their goal: to help libraries and community centers across the U.S. create and sustain poetry programs.
 
"Not everyone organizes their lives around poetry," said Ben Pelhan (DC'06), "but in our own teaching experience, we find that the only things people need to make poems is the space and time. And maybe a little encouragement."

The encouragement they are delivering has its roots in an education at CMU, where the group had an opportunity to work side by side with award-winning faculty, such as Gerald Costanzo, professor of English and director of Carnegie Mellon University Press. 

"Jerry was one of the first people to read and enjoy one of my poems — and say so," said Adam Atkinson (DC'05), one of the poets going on tour. "His enthusiasm for student work, paired with an intense focus on a wide variety of forms, resulted in students who felt both empowered and equipped to experiment. I think if you look at what our tour — which is called 'Line Assembly' — has planned for its workshops, for its library kits, and so on, the influence he had on our project is pretty self-evident."

After spending the past several years scattered throughout the country pursuing MFAs and teaching and writing careers, Pelhan, Atkinson and four of their friends from their days as CMU undergrads — Lillian-Yvonne Bertram (DC'06), Zachary Harris (DC'07), Anne Marie Rooney (DC'07) and S.E. Smith (DC'05) — will reunite this summer for a poetry road trip.

Supported primarily through a Kickstarter campaign, their "Line Assembly" poetry tour includes poetry readings, workshops and performances for the general public — as well as leaving behind materials to help each location build a lasting poetry community.

"If anyone can pull this off, it's this group," said Jim Daniels, the Thomas Stockham Baker Professor of English and another award-winning faculty member at CMU. "They have spirit, energy, enthusiasm, and, of course, talent. Also, these alums were all very active in organizing readings and literary activities while they were students here, so I know they have both the literary and organizational chops. It's a great project — the kind of thing I would've loved to be involved in myself in my early days as a writer. They represent the best of creative writing at Carnegie Mellon, and I can't wait to see them cruise into Pittsburgh on the tour."

At each of the 20+ stops, the poets will read from their latest work, including Bertram's "But a Storm Is Blowing From Paradise" (Red Hen Press, 2012), Harris's "There Is Another Poem…" (New Michigan Press, 2011), Rooney's "Spitshine" (Carnegie Mellon University Press, 2012), and Smith's "I Live in a Hut" (CSU Press, 2012). They will also run workshops that will incorporate different writing exercises, depending on the participants' ages and needs.

To bring awareness to how critical public funding is for arts education and forming art communities, they will perform "People Against Poetry." For this project, which originated in (yes, another) award-winning English Professor Terrance Hayes' "Readings in Contemporary Poetry: Out Poetry" class, the poets act out roles of anti-poetry advocates.

"Each of these writers is a former student of mine and I continue to believe in them and what they are attempting," said Costanzo. "Each is an accomplished writer; collectively they will constitute a tour de force (pun intended). Those whom they encounter will find their message about the value of poetry in our lives to be irresistible."

Pelhan said, "At CMU, we were really important to each other as friends and as peers in writing. In some places people feel isolated from this kind of community. That shouldn't be the case."
Related Links: Dietrich College of Humanities & Social Sciences | Line Assembly website | Line Assembly on Facebook | Follow Line Assembly on Twitter | Dept of English | Creative Writing Program
---