Studio Studies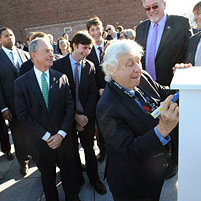 New York City announced a historic agreement among the city, Carnegie Mellon University and Steiner Studios to create CMU's Integrative Media Program (CMU-IMP), which will be housed at Steiner Studios at the Brooklyn Navy Yard.

The Integrative Media Program will be the first Applied Sciences program to provide training in creative industries that integrate technology and the arts, focusing on research and education across technology, arts and design, sciences and humanities as well as applications in film, gaming, social media, interactive computing, performance arts, visual arts, design and architecture.

It also is the first Applied Sciences project to integrate rigorous academics seamlessly into a specialized commercial working environment, offering students the opportunity to work alongside professionals in the field.
The announcement is the latest milestone in the city's groundbreaking Applied Sciences NYC initiative, and the fourth project to be announced as part of the citywide strategy to increase its capacity for applied sciences and engineering to strengthen and transform the city's economy.
"We believe New York City will be the perfect setting for CMU to provide education in these technology-based modes of expression and production — social media, games, special effects, responsive environments, product design and manufacturing, just to name a few of the areas where we will be working together," said CMU Provost and Executive Vice President Mark Kamlet. "Along with Carnegie Mellon's new Simon Initiative in effective technology-enhanced learning, there will be unprecedented opportunities to crystallize new thinking by faculty and students in this area, and design technology to support human creativity, improved learning and more diverse social interactions on a global scale."

CMU will hold classes at the studio's 25 Washington Avenue facility, which also houses soundstages, photo studios, post production and support spaces. The program will be under the direction of Thanassis Rikakis, vice provost for Design, Arts and Technology, and will begin accepting students in August 2015. CMU and Steiner Studios also are developing a plan to offer performance capture and post-production coursework.

The initial master's degrees will offer options for one year, one semester and part-time study in NYC. Courses of studies will include new degrees in emerging media and game design, and expanded versions of existing degrees in integrated innovation in products and services, urban design, computational data science and production technology and management.

These programs are offered collaboratively across CMU's College of Fine Arts, School of Computer Science, the College of Engineering and the Tepper School of Business.

Steiner Studios was created in 2004 as New York's first Hollywood-style film and television production facility. Founded by David Steiner (E'51) and his son, Douglas, the studio lot has grown to more than 26 acres and is home to HBO's "Boardwalk Empire," Fox's "The Following," and Warner Bros.' "The Carrie Diaries." Feature films filmed there include: "Sex & the City," "Inside Man," "Burn After Reading," "Enchanted," "American Gangster" and "The Adjustment Bureau."

The New York City metropolitan area is home to more than 8,700 CMU alumni, and is the largest alumni population outside of Pittsburgh.


Photo: Mayor Bloomberg announces CMU's Integrative Media Program, as David Steiner of Steiner Studios signs a Fence replica. Photo by Todd Maisel/New York Daily News.
Related Links: Leading innovation: New York and Beyond | The School of Drama NYC Centennial Celebration | "On the Set" - Carnegie Mellon Today | Tepper School of Business Master in Computation Finance
---