Assembling Connections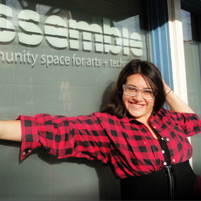 Nina Barbuto
Art enthusiasts who want more from a gallery visit can interact with pieces on display at Assemble in Pittsburgh — through hands-on activities that connect the art with technology.

When Carnegie Mellon University alumna Nina Barbuto (A'06) returned to Pittsburgh after graduate school in southern California, she conceived of the gallery to empower a community of makers around sustainability, art and science. 

Barbuto reconnected with her CMU network, including CMU alumna and faculty mentor Christine Mondor (A'93), to help bring her vision to reality.

"I was thrilled to be a part of it," said Mondor. "We want our students to be problem-seekers rather than problem-solvers as Nina did in her vision for Assemble."

Connections — physical and non-physical as well as social and creative — are fostered at Assemble through film screenings, happenings, workshops, lectures and community activities. The open physical space unites artists, technologists and makers of all demographics in an urban setting.

The organization is founded on the concepts of sustainability, community, science, architecture, new media, and low-tech and high-tech art. 

"There are a lot of bridges between creativity and math and science and technology," Mondor said.
Barbuto's dedication to bring her vision to reality is typical of CMU's culture of entrepreneurship supported by CMU's Greenlighting Startups initiative.

Five of Assemble's board of directors are either CMU alumni or faculty, including Emily Rice (A'07) who also took classes from Mondor.

"I had a fantastic experience at CMU," said Rice. "I love CMU. I love CMU students. I love how serious everybody is about what they're doing, and they're not afraid to be enthusiastic about it."

Barbuto said, "I looked up to Christine and really valued what she had to say about my design work."

One thing Barbuto says she never forgot as a student was when Mondor suggested she take photos of objects, patterns, forms and shapes she liked in the built world in order to make her own architecture concept library.

"To this day, I still keep a binder of them and a folder on my computer of digital files so that I can use past experiences as inspiration," Barbuto said.

Barbuto was named one of Pittsburgh's "40 Under 40" this year, along with seven other CMU alumni.

Pittsburgh Magazine and PUMP award people under the age of 40 who have demonstrated exceptional passion for, commitment to and an overall impact on the region.

What is your most memorable art gallery experience? Leave a comment below, or visit us on Facebook or Twitter.

Greenlighting Startups is uniquely designed to support CMU's culture of entrepreneurship and new business creation. Learn more »
Related Links: Assemble on Facebook | AssemblePgh.org | Growing Pittsburgh | School of Art | School of Architecture | College of Fine Arts | 40 Under 40 Winners | Greenlighting Startups
---