Showcasing Innovation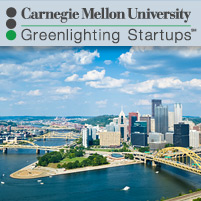 On September 21, seven early-stage Carnegie Mellon University startups — five of them student creations — presented to a gathering of influential venture capitalists.

The fledgling companies competed for prizes and gathered feedback at a showcase kicking off the Three Rivers Venture Fair — the flagship event of the The Pittsburgh Venture Capital Association (PVCA). Two CMU students were in the top-three award-winners at the competition.

"The showcase provides an opportunity for the young companies to practice their pitches, to be seen by potential investors and to network," explained Gorana Smailagic of Carnegie Mellon's Center for Technology Transfer and Enterprise Creation (CTTEC).

CTTEC is part of Carnegie Mellon's Greenlighting Startups Initiative — a new consortium of campus incubators with an impressive record of turning campus innovations into sustainable new businesses.

And the seven startups have all been assisted in their upward climb by one or more of the Greenlighting Startups organizations.

CTTEC has been immensely helpful in the development of my company," said Doug Bernstein, CMU student and founder of Peca Labs, a medical device company focusing on rare pediatric and cardiovascular conditions.

"Project Olympus has also been very helpful in advising me during the initial stages."

The senior, winner of the third-place prize, is a mechanical and biomedical engineering double major. He was inspired to start Peca Labs after researching in CMU's Cardiovascular Fluid Mechanics Lab.

"I saw the dire need for medical devices to treat rare conditions of all types, as they are largely ignored by medical device developers due to small market size."

Sanna Gaspard, founder of an ulcer diagnostic device company, Rubitection, was motivated to form her company while enrolled in a rehabilitation engineering course.

"I believed the technology could sincerely improve care for many patients who suffer or are at risk for pressure ulcer development," said Gaspard, who is pursuing a Ph.D. in biomedical engineering. Gaspard won the competition's grand prize for her presentation.

"CTTEC was invaluable as it allowed me to refine my familiarity with the funding cycle and build and test my technology," she added. "CTTEC and Project Olympus also helped me to acquire funding."

The technology showcase luncheon, planned in collaboration with the University of Pittsburgh, isn't the only venue for new CMU ventures. Four later-stage CMU startups will be presenting during the fair itself.

"The PVCA is eager to showcase the exciting technologies that are being developed and nurtured in our universities," said Kelly Szejko, PVCA president. "We are proud of the technologies that are born here and the region's reputation as a hotbed of innovation."

Added Bernstein, "CMU has reinforced that if you want to do something extraordinary, you have to push both yourself and policymakers beyond their comfort levels. In addition, CMU has taught me that you can be creative as an engineer, which is something I can only hope rubs off on more of our colleagues."
Related Links: Greenlighting Startups | CTTEC | Project Olympus | Three Rivers Venture Fair | PVCA
---