Ideas for Good
Hybrid roller coaster
Solar-powered ventilation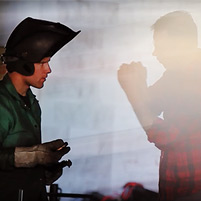 Toyota asked how would you use their vehicle technology in a unique way to "do good."
The top five ideas submitted recently came one step closer to reality.
The contest winners joined faculty and students at Carnegie Mellon University as they built the prototypes.
The five winning ideas:
Building a Better Bike Helmet, submitted by Stu Selthun Inspired by T.H.U.M.S., this idea uses Toyota's technology to assess the strengths and weaknesses of current bicycle helmets. It improves upon these designs to protect riders from traumatic brain injuries.
Pure Air, submitted by Tim Witmer Using the Solar Powered Ventilation System, this idea proposes a way to draw smoke from huts in developing nations. Ultimately, it provides improved health conditions in an environmentally-friendly way.
Power Plant Gym, submitted by Birken Schimpff This idea was inspired by Toyota HSD technology to convert the energy exerted at a gym into electricity. It connects exercise equipment to a system of resistance cords and turbines. Users would put electricity back into their local power grid simply by working out.
Automated Firefighting Extension Ladder Guidance System, submitted by Fran Orzech This idea uses APGS to increase efficiency and precision in emergency situations, reduce risk and decrease the amount of time it takes to accurately position a firefighting ladder.
Touch Tracer Mouse, Keyboard & Monitor, submitted by David Champion This idea integrates Toyota's Touch Tracer Display into a computer mouse, keyboard and monitor all in one place. It allows users to easily toggle between the mouse, keyboard and numerical pad while the heads-up display shows them exactly where their fingers are in relation to the keys.
The challenge received more than 4,000 submissions and nearly 19,000 votes.
"The Ideas for Good program is a testament to the synergies between CMU and Toyota — we both create innovations that have an impact on the world," said Rick McCullough, vice president for research at the university. "It's those same synergies that have brought us all together for Ideas for Good."
Experts from CMU, Toyota and Pittsburgh "post-digital shop" Deeplocal worked to bring the ideas to fruition.

Each winner also receives a Toyota vehicle.
      
CMU's Illah Nourbakhsh, associate professor of robotics, served as faculty coordinator for the workshop. About a half dozen students and faculty members took part, he said.
      
Deeplocal, headed by CMU alum Nathan Martin, has worked with Toyota throughout the Ideas for Good campaign and has organized the "build weekend" at Carnegie Mellon University.

The shop also built and videotaped its own versions of a roller coaster using Toyota's Hybrid Synergy Drive and a disaster-relief tent using the Solar-Powered Ventilation System.

"There's energy to be had everywhere. And if we have the right kinds of technologies and they're implemented properly, you can catch it," said CMU's Jay Whitacre, an assistant professor of engineering and public policy and materials science and engineering.  "Instead of just losing all of this energy to friction, we can harvest it."

Whitacre says what they did with the roller coaster project is not specific to roller coasters. 

"Really, it's all about being able to utilize energy that is otherwise lost to heat. The roller coaster project is about showing that this technology, in principle, is applicable everywhere." 

Their work potentially could make "a giant difference in our carbon footprint, and our reliance on foreign sources of energy, and hopefully will impact our lives," he said.
Related Links: Deeplocal | Greenlighting Startups | Watch: hybrid roller coaster | Watch: solar-powered ventilation
---