Stern Advice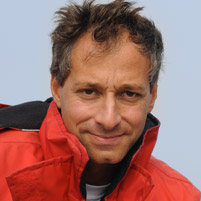 Peter Stern
Peter Stern (E'89) likes to build things, especially startup companies.

The Carnegie Mellon alum co-founded Datek Online, which became the 4th largest online brokerage firm. Then, with fellow CMU alum Alan Chung (EE/ECE '88), he co-founded another web company creating products like Zenbe Mail, Shareflow and Lists for the iPhone.

Now the CEO of bitly, Stern is investing in the next generation of entrepreneurs. He recently returned to his alma mater to share insights on startups with students.

"My job is to inspire the people who work [at bitly], to keep the ball rolling. But I have to do this knowing that any day something on the Internet may think of a way to squash bitly like a bug," he said.

Stern's number one question to students who aspire to follow in his footsteps is this: Can you sleep at night with all the uncertainty?

"A lot of people take the uncertainty of entrepreneurship as a given, but I don't.  I've seen strong people wither under sustained uncertainty. It's not easy to worry 24 hours a day," he said. "When a series of bad things happen, it's not exciting anymore."

From finding the right hires to covering payroll to customer love, Stern says, "Really, what is there not to worry about?"

His advice to students interested in startups?

"Find something better to do with your time," he joked.

On a more serious note, he strongly suggests keeping things simple.

"My single best piece of advice is to be stupid, and I say that in a very specific context, as in the opposite of complex. Be simple. Business success favors simplicity. Great businesses are created when people use technology to solve problems," he said.

"I'm constantly amazed at how many well-intentioned people pitch me a solution looking for a problem," he added. "What you have to remember is, nobody cares. Nobody cares about you, and nobody cares about your company. Everybody's busy. So you'd better be solving a problem people care about."

During his visit, Stern announced the Open Field Entrepreneurs Fund (OFEF) at CMU. OFEF was created by Flip video camera creator and fellow alumnus Jonathan Kaplan and Kaplan's wife, Marci Glazer.

The fund provides early-stage business financing to alumni who have graduated from CMU within the past five years. OFEF is part of Carnegie Mellon's Greenlighting Startups initiative.

CMU has enjoyed tremendous success in nurturing ideas and innovations into commercial enterprises. The university's faculty and students have helped to create 300 companies and 9,000 jobs in the last 15 years.

Spin-offs from Carnegie Mellon represent 34 percent of the total companies created in Pennsylvania based on university technologies in the past five years.

Carnegie Mellon's innovation ecosystem includes the Center for Technology Transfer and Enterprise Creation, the Donald H. Jones Center for Entrepreneurship, Project Olympus, and the Quality of Life Technology Foundry (QoLT).
Related Links: OFEF | CTTEC | Don Jones Center | bitly | QoLT | Project Olympus
---