Roberta Sefcik Living Her Dreams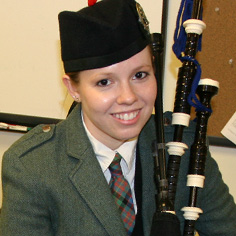 What do bagpipes and medicine have in common? Carnegie Mellon sophomore Roberta Sefcik.
Sefcik chose Carnegie Mellon because of the university's excellent music school and bagpipe performance program. She also found herself dreaming of pursuing a career in medicine.  
In discussing this with her advisor, Sefcik was led to one of Carnegie Mellon's unique majors, the Bachelor of Science and Arts (BSA) — allowing her to pursue both interests through interdisciplinary studies in the
College of Fine Arts
and the
Mellon College of Science
.
"I had always wanted to be a doctor, but I was concerned that if I focused so much on science, I would lose my music ... my music is my passion," explained Sefcik. "When I found the BSA program, it was perfect because it let me do both. It was a program made just for me."
The talented musician was recently accepted into Mt. Sinai's highly competitive Humanities and Medicine Early Acceptance program, guaranteeing her admission to their medical school and excusing her from many of the pre-med requirements that keep students from furthering their exploration of both humanities and the sciences as an undergraduate.
Sefcik credits the
Fellowship and Scholarship Office
(FSO) for offering tremendous support in pursuing the program — as well as the Mellon College of Science and other faculty members for helping her follow her dreams.
"One of the things that I absolutely love about Carnegie Mellon is that if you want to accomplish something, the faculty and staff will rally behind you and do everything that they can to help you," she said. "Working with the FSO office on the Mt. Sinai program, they did everything they possibly could. The faculty and staff are so wonderful. They will help you in any way."
Sefcik is looking forward to the prospect of delving further into her music, as well as exploring psychology, ethics and language. She's just as excited for a future pursuing geriatric medicine, a skill she knows is sorely needed in her home state of Florida.
But the thing that thrills her the most? That she didn't have to choose.
Related Links: Fellowships & Scholarships Office  |  Mellon College of Science  |  College of Fine Arts  |  School of Music
---