127 Hours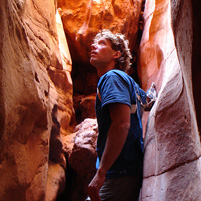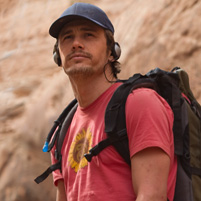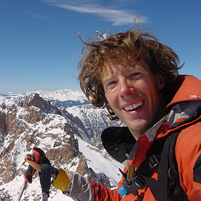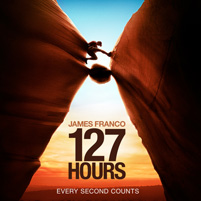 Trapped alone in a Utah canyon for nearly a week, pinned by a half-ton boulder, Aron Ralston (E'97) had to choose between his hand and his life.
He chose survival — amputating his own limb, rappelling 65 feet and hiking seven miles to rescue.
The film 127 Hours, starring James Franco and directed by Oscar-winning Danny Boyle, details Ralston's heroic story.
"My experience in the canyon was one of the greatest things that's ever happened to me," said Ralston. "It showed me what I was capable of, what was important in my life."
A highly talented student while at Carnegie Mellon, Ralston credits the university with helping him in the canyon.
"The analytical and rational problem-solving I honed at Carnegie Mellon played a major role in helping me get out of there," he explained.
But what kept him alive, said Ralston, was more elemental.
"It was primarily my family," he explained. "In the end I realized what I survived on, what got me out of there, was love."
Boyle's critically-acclaimed film, based on Ralston's 2004 autobiography, has received six Oscar nominations, including "Best Picture" and James Franco's nomination for "Best Leading Actor."

At CMU, Ralston majored in mechanical engineering and French, and minored in piano performance. He was also active in numerous intramural sports and a member of seven honor societies.
"Carnegie Mellon was a great place for me to blossom," said Ralston, noting his continued friendships with dorm-mates in Hamerschlag Hall. "These were my people in so many ways. CMU launched me into a career."
"I've been a member of the Andrew Carnegie Society since I left school," he added. "I'm trying to give back. It was an incredible education."
Following school and a successful stint at Intel, Ralston set out to prove himself once again — this time in a realm where the mountains weren't metaphorical.
Ironically, his experience in Utah only caused him to redouble his efforts and intensity. He went on to climb all 59 of Colorado's highest peaks — solo, in winter.
He's also drawn on his engineering skills, helping to design prosthetics for companies that have sponsored his climbs.
Life and time inevitably awakened a change in Ralston, now married and a father.
"My life is still an adventure — just not the kind that involves mortal risk," Ralston grinned. "It's more about enjoying that adventure of being a dad for the first time, being there with my family — the adventure of maturing and changing."
Working on his second book, his travels now take him around the globe, sharing his story with audiences — hoping he can help others.
"I've learned along the way that these boulders in our lives can be our blessings, " he said, "I've learned to smile at these experiences because, in the end, they really bring you growth."
Top photo, Aron Ralston; second from top, actor James Franco; third photo from top, Aron Ralston; bottom photo, 127 Hours.

Related Links: 127 Hours | Mechanical Engineering | Modern Languages | School of Music
---