Student Interns at NASA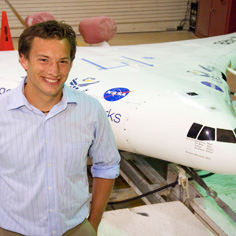 High above the Californian desert at Edwards Air Force Base, an unmanned aircraft is being pushed beyond its limits by engineers on the ground. Eric Blood (E'10) stands watching, wide-eyed as the experimental Boeing X-48B attempts its next move. An internship with NASA landed him a front-row seat.
"It's really incredible. You see airplanes do stuff at this base that airplanes just aren't supposed to do," he said.
Blood, who studies mechanical engineering at Carnegie Mellon University, was tasked with building a database of maneuvers for the plane, which engineers are using to analyze results.
"Since it's an experimental airplane, the idea is to take what we know about this vehicle and have it scaled properly to predict the maneuvers of one that is actual size," he explained.
Determined to one day pilot his own aircraft, Blood also studied the spin characteristics of the X-48B, learning about the stability, control and recovery quality of the plane which features a
blended wing body
design.
"A lot of people act like getting to work at NASA is unattainable," he said. "Carnegie Mellon produces some great engineering minds. I hope someone reads this and sees that it's possible."
Nadine Aubry, head of Carnegie Mellon's
Department of Mechanical Engineering
, referred to Blood as an excellent example of the intelligent, innovative students who use their engineering studies to pursue both their dreams and their career objectives in today's highly competitive global work environment.
Blood feels he couldn't have picked a better school for his education.
"The small student body makes for great accessibility to your professors. As long as you are really passionate about what you want to do, everyone will try to help you along," he said. "Carnegie Mellon is a place to chase your passions. I'm still chasing them."
Blood is the recipient of an American Society of Engineering Education fellowship. The fellowship included a two-year participation in the organization's Aeronautics Scholarship Program and a summer position at a NASA's Dryden Flight Research Center in Edwards, Calif.
Related Links: About the X-48B  |  Dept of Mechanical Engineering  |  College of Engineering
---