Lehane Directs Unique Concert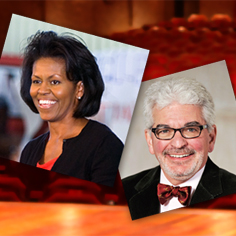 As the G-20 Summit week concluded, on Sept. 25 Carnegie Mellon Professor Gregory Lehane directed First Lady Michelle Obama's concert for the spouses of G-20 leaders — a responsibility undertaken at the special request of the White House.
Mrs. Obama thanked Lehane for his work during her introduction.
"... I want to honor Gregory Lehane — a widely recognized director and a professor at Carnegie Mellon University — for giving his time to help direct today's performances," said Mrs. Obama. "Let us give a hand to Mr. Gregory Lehane."
She also emphasized her and the president's commitment to the arts.
"We believe strongly that the arts aren't somehow an 'extra' part of our national life, but instead we feel that the arts are at the heart of our national life," she said.
"It is a rare honor to be involved in this international event, and particularly satisfying to participate in helping the First Lady promote arts education in America," Lehane said. "What an excellent time to be an American, a Pittsburgher, and an artist."
At the event in downtown Pittsburgh, Lehane directed the renowned performers Yo-Yo Ma, Trisha Yearwood and Sara Bareilles, as well as students at the Pittsburgh High School for the Creative and Performing Arts.
The event marks a fitting end to a week that could only be possible at Carnegie Mellon — under an international spotlight and spanning disciplines and interests. (See more: Bill Gates' dedication of the Gates & Hillman Centers; Australian Prime Minister Kevin Rudd's keynote; Ambassador Dan Rooney and other top minds discuss future of G-20.)
Whether it's Carnegie Mellon's leadership in the next-generation of computing, our pioneering public policy work or our globally celebrated arts program, the Carnegie Mellon community is shaping the future. And Lehane's direction of the White House concert embodies the College of Fine Arts' unique position of international leadership in the arts.
A professor of music and drama at the Carnegie Mellon, Lehane has taught at Carnegie Mellon for two decades. He has directed plays in New York City, where he was a founding member of Primary Stages Company and directed five New York premiers with that company. His work has been seen in American Regional Theatres, in Canada and in Egypt where he was a Distinguished Lecturer in Drama at the American University in Cairo. He directed a trilogy of Greek Tragedies for the Moscow Art Theatre School.
Lehane has directed television programs for all three major networks, PBS, TBS, Lifetime, Nickelodeon, USA, The Disney Channel, in London, and in France for worldwide syndication. He has been nominated for an Emmy for Outstanding Direction twice.
Regionally, Lehane has directed programs for the Pittsburgh Cultural Trust and the Pennsylvania Council on the Arts. He is also the voice of "Father Bach" on a Rounder Records CD that teaches concepts in poetry and music to pre-schoolers.
Lehane is a member of the Society of Stage Directors and Choreographers and the Directors Guild of America.
Related Links: Watch Video  |  First Lady's Remarks  |  Carnegie Mellon & the G-20  |  College of Fine Arts  |  School of Music  |  School of Drama  |  Pittsburgh is Art [.pdf]
---