Facing the Economic Turning Point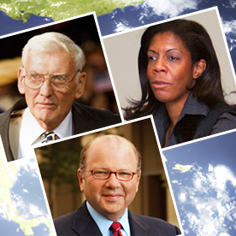 The Carnegie Mellon campus community joined top minds from government, business, policy and education sectors Sept. 23 at "Renewing Globalization in a Post-Crisis World: The Future of the G20 Agenda" — to take a dynamic look at the intersection of economic and social forces shaping the post-economic crisis world.
The day-long conference was co-hosted by Carnegie Mellon University and the Atlantic Council of the United States, with support by the U.S. Chamber of Commerce. In conjunction with the event, Carnegie Mellon University Press recently released a report featuring essays by many of the speakers.
The conference was opened by Frederick Kempe, Atlantic Council President and CEO; and James E. Rohr, Chairman & CEO, PNC Financial Services Group, and Board of Trustees, Carnegie Mellon University.
Featured speakers also included U.S. Ambassador to Ireland Daniel Rooney; Carnegie Mellon President Jared L. Cohon (Watch on YouTube | Download on iTunes U); and the World Bank's Shaha Ali Riza and Mansoor Dailami, among others.
"The previous efforts taken by the G-20 leaders and financial authorities have been instrumental in preventing a full-scale global depression," said Alexei Monsarrat, director of the Atlantic Council's global business and economics program.
"However, the recent crisis exposed deep inequalities and structural problems in the international economic system, and they present a complex situation that will require a multifaceted solution," he said.
Monsarrat and Kiron K. Skinner, an associate professor of social and decision sciences and director of the International Relations and Politics Program at Carnegie Mellon, led the conference efforts.
They defined a four-part agenda that addressed the challenges posed by globalization: (1) sources of growth and the role of innovation; (2) the role of financial regulation and trade in restoring growth; (3) educating a workforce for the 21st century economy; and (4) social and political challenges of renewing globalization.
"The issues that affect our lives are not solely economic, political or social, but are rather some combination of all of them," Skinner said. "And because these combinations vary across time, policy and region, the G-20 leadership must be armed with multidisciplinary and novel approaches to enhance financial stability, economic growth, political liberalization and political transparency."
Skinner added, "This conference and report investigates these policies by bringing together distinguished thinkers from a broad range of professions and disciplines."
On Sept. 24, Carnegie Mellon hosted Prime Minister Kevin Rudd, who presented a special keynote address to the university community, followed by an interactive panel of experts. The event built on Carnegie Mellon's identity as a global university — our Heinz College program in Australia is one of a dozen degree programs offered outside the United States. (Read story and watch videos.)
Photo (left to right): Ambassador Dan Rooney, University President Dr. Jared L. Cohon and Kiron Skinner. Photo of Ambassador Dan Rooney by Joshua Debner (E'11).
Related Links: Read the Report  |  Welcome, World  |  Carnegie Mellon University Press  |  Kiron Skinner  |  Prime Minister Rudd Event
---