Homecoming Weekend Highlights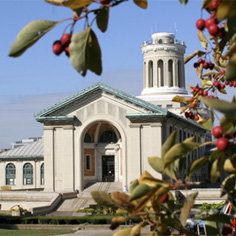 Alumni who attended this year's Homecoming Weekend events enjoyed everything from rekindled friendships, to a rousing football game, to a star-studded, confetti-filled celebration of the Carnegie Mellon success story.
The campus buzzed with activity — including class reunions; live bands featuring Carnegie Mellon alumni, students, faculty and staff; Buggy practice runs; lectures on environmental initiatives; and Scotty sightings.
Philip Mason (S '67, '76), director of bioinformatics at Massachusetts General Hospital, was here with his wife, Jacqui, celebrating his 40th reunion. He's the son of Sylvia Linder Mason who graduated from Margaret Morrison Carnegie College in 1943.
While Jacqui sat in on a seminar by a Carnegie Mellon alumna who works in the fashion industry, Philip attended an information session next door called "Applying Computational Models of Evolution to Cancer Biology."
"It's fascinating. It compliments some of the work I do, which involves understanding genomic changes over the course of injury — primarily for car accident victims," Philip said. "We want to be able to predict which patients won't respond to standard treatment, and we want to find that out as early in the course of treatment as possible."
A member of the Kiltie Band when he was a student, Philip dusted off his clarinet a couple of weeks ago when he received an invitation to play at Saturday's football game.
"I've been practicing. I hope it doesn't rain!" Philip mused.
Katrin Wesner St. John (HS '88) was here with her father, John W. Wesner Jr (CIT '58), who is also an adjunct professor at the university. Katrin celebrated her 20th reunion while her father celebrated his 50th.
Katrin attended a discussion by a panel of current undergraduate students, hearing what student life is like today at Carnegie Mellon.
"I had such a great student experience here, I wanted to see if students were still having a great experience like I had," Katrin said. "You can see they're all finding it to be very rewarding."
Acknowledging that some changes have taken place over the years, she commented, "Campus is beautiful! It's changed a lot, but the new construction is great. I'm looking forward to seeing more of it this weekend."
She added, "And it's exciting to be here when the campaign kicks off."
A special weekend highlight was the Celebrate Our Future event, which kicked off the announcement of "Inspire Innovation: The Campaign for Carnegie Mellon." The event featured music, remarks from university leaders and was capped off with a pyrotechnics display. Carnegie Mellon alums Zachary Quinto (A '99) of the NBC hit series "Heroes" and Aaron Staton (A '04) from the Emmy Award-winning AMC series "Mad Men" served as emcees for the evening.
At Gesling Stadium, the Tartans battled the Wittenberg University Tigers, in a close football game that ended with a Tigers 21-14 victory. The Carnegie Mellon University women's soccer team hosted Mount Union College in a non-conference tilt Sunday afternoon and the Tartans walked away with a 3-0 victory.
Alumni, students, faculty and friends are already looking forward to next year's Homecoming, which will take place Oct. 29-Nov. 1, 2009. Many alumni will also be returning to campus for Spring Carnival Apr. 16-18, 2009, so save the date! Reunion activities at Spring Carnival are being planned for alumni in the classes of 1994, 1999, 2004 and 2008.
Related Links: Alumni Award Recipients
---