RaceJoy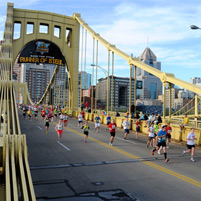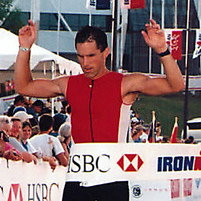 James Harris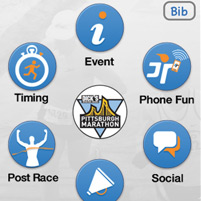 Screen capture from RaceJoy app
When thousands of Pittsburgh Marathon runners raced past the Carnegie Mellon University campus on May 4, they were equipped with RaceJoy — an innovative mobile app developed by proud CMU graduate James Harris (E'96). For Harris, the event's "Run Home to Pittsburgh" campaign holds special significance.

"CMU is a big part of my life and success, so it's very meaningful to me that I'm able to provide this technology to Pittsburgh," Harris said. "Even more important, Carnegie Mellon should be credited for who I am and what I've done."

The Florida native earned his master's degree from CMU's Information Networking Institute and spent the next 15 years in the field of distributed computing, "bringing information from a variety of sources into a meaningful interface."

He fondly remembers his runs through Pittsburgh neighborhoods and began participating in endurance events soon after graduation. Over the years, he completed numerous marathons and eight Ironman competitions, in time, cheered on by his wife and daughters.

"We found that it's very hard to be a spectator," Harris said. "It's really difficult to go out there for hours at a time, not really knowing what's going on or where your loved one is on the course."

In the best CMU spirit, he developed RaceJoy to solve the problem. In 2011, Harris and his wife founded parent company TriPerta, a family business that now employs eight, and launched RaceJoy the following year.

The unique, interactive app integrates the entire race experience, allowing spectators to track competitors — even sending phone 'cheers' — and enabling runners to hear real-time results. RaceJoy also provides access to all event information including parking, course maps and activity schedules.

"We bring all these distributed systems into one common athletic experience — very complicated stuff," Harris said. "For instance, we bring information directly from timing controllers out on the course, from phones providing live tracking, from actual scoring software and more."

While RaceJoy has been successfully employed in a number of races, the Pittsburgh Marathon is its first, as Harris says, "tier-one city" marathon event.

"Information networking was what I was trained to do at CMU," he said. "How lucky am I to have the opportunity to use that training to build a product that, 20 years later, will be used in the Pittsburgh Marathon?"

"My experiences at CMU were life changing in so many regards," Harris added. "CMU really helped me understand how to solve problems across very complex systems — one of the strengths of my career. I've led very large, global software teams for very large entities. And having CMU on my resume opened so many doors.

"That evolution all began at CMU."
Related Links: Carnegie Mellon Alumni Gather To Run Boston Marathon | QoLT Co-Director Places First at 2009 Pittsburgh Marathon
---