Win-Win
Gianopoulos on the field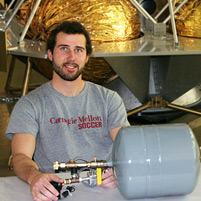 Gianopoulos working with CMU's Google Lunar X robotic lander
An all-American athlete and NCAA scholarship winner, Carnegie Mellon University senior Nick Gianopoulos has learned the art of balancing his sports and his studies.

Throughout his years at CMU, Gianopoulos has been recognized for his excellence both on and off the field.

Captain of the men's soccer team at CMU, Gianopoulos was recently awarded an NCAA Postgraduate Scholarship. It's a one-time, nonrenewable grant of $7,500 to be used for part-time or full-time postgraduate study.

"The scholarship will really help me a lot because there is no financial aid in graduate school," he said.

The scholarships are awarded to student-athletes who excel academically and athletically and who are in their final year of intercollegiate athletics competition.

Gianopoulos is currently working with William "Red" Whittaker, CMU alumnus, University Professor and faculty member at CMU's Robotics Institute, designing and implementing a piece of the lunar lander's propulsion system as part of the Google Lunar X Prize Team. The Google Lunar X Prize Team's mission is to safely land a robot on the moon, travel 500 meters, and send images and data back to Earth.

"Red is one of the most impressive people I've come across in my life. You can't beat this experience," Gianopoulos said. "I can't think of many colleges where you can work on something that is going to be on the moon. Red's a pioneer, and to work with someone like that is a pretty special opportunity."

Being recognized as an outstanding student-athlete doesn't come without a lot of hard work and commitment — in all respects. The mechanical engineering major has a 3.91 GPA and is also working on his master's degree in the same field, on track to graduate with both degrees in December 2012.

In regards to managing his time on the field and off, Gianopoulos said, "It's definitely something you have to keep a hold of on a daily basis. Sometimes it gets overwhelming, but I also feel that during soccer season, especially, I'm very regimented with my time management and that keeps me getting things done every day."

The NCAA awards up to 174 postgraduate scholarships annually. Gianopoulos was one of 29 male athletes that received the award for fall 2011, and the only recipient from a University Athletic Association institution.

A two-year starter, he was a member of NCAA Tournament teams during his freshman and sophomore seasons. In 2009, Gianopoulos helped the men's soccer program reach its first-ever Sweet 16. As a junior, he started all 16 games for Carnegie Mellon and helped the team reach a No. 2 national ranking.

This past season, Gianopoulos was named Capital One Academic All-America because of his outstanding academic and athletic accomplishments.

Summer internships at United Launch Alliance, a joint venture between Lockheed Martin and Boeing, and at GE Aviation coupled with his CMU education have given the space buff a running start on the career he wants.

After college, Gianopoulos is considering specializing in controls as they apply to a rocket, inspired by CMU professor Bill Messner's "contagious passion and enthusiasm" for the subject.
 
"To prospective student-athletes, I would say pick the school you like for academics, not just where you want to play sports," he said.

Gianopoulos is glad he picked CMU. Not only was he was able to play competitive soccer at a collegiate level, he was also fortunate to work side-by-side with some of the university's most inspiring and world-renowned faculty members.
Related Links: Athletics at CMU | Dept of Mechanical Engineering | Career & Professional Development Center | Google Lunar X
---