A Flash of Inspiration
New Venturist interview with Guestrin and Goldstein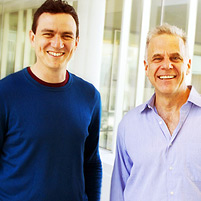 Carlos Guestrin and Seth Goldstein
You have a momentary spark of interest — maybe in a sporting event you're watching or in trying that new restaurant for lunch in 10 minutes. You'd like to connect — right now — with others, maybe read more on the subject, but those in your social network don't share your curiosity.
Enter Flashgroup, a startup featuring new technology developed by Carnegie Mellon University computer science professors Seth Goldstein and Carlos Guestrin.
Flashgroup allows people who couldn't ordinarily find each other to connect in real time — then disband just as easily when the 'flash' is over.
"The goal of Flashgroup is to connect people to other people and also to new content based on their current intention," explained Goldstein. "Currently, our idea is to use a webpage widget that can recommend both content and social spaces for a user to engage in."
Goldstein and Guestrin had long wanted to get involved in the startup arena and are currently on entrepreneurial leave from the university.
"We wanted to bring our ideas out of academia and into the real world," said Goldstein, "and CMU has been incredibly supportive of our project."
Flashgroup is just one example of the type of transformative activity behind CMU's Greenlighting Startups initiative, designed to support and accelerate the commercialization of groundbreaking innovation.
"Project Olympus has been instrumental in helping us," said Goldstein of the Greenlighting Startups organization. "They have introduced us to people, helped us understand how to manage our business and generally provided advice when we needed it. It is a great resource."
The fledgling company has now grown to seven employees, including one CMU undergrad, and the team is currently beta-testing their product. They've raised over $1 million in seed funding from local and national investors and a Small Business Innovation Research (SBIR) grant from the National Science Foundation.
Now that Flashgroup is on its way, Goldstein's advice to would-be entrepreneurs is particularly fitting, given his goal of facilitating personal interaction.
"Make sure you have a great partner," he said. "The energy created by our partnership has been a real boon to making Flashgroup what it is today. This is definitely the case where the whole is greater than the sum of the people."


Related Links: Flashgroup | Popcity Article | School of Computer Science | Greenlighting Startups
---