Google Picks Up PittPatt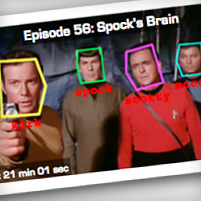 Walk through the office door and the camera has you.
On a large screen to your right, a fluorescent geometric shape outlines your face and identifies you by name. It bobs and morphs with your every move.
It's an impressive demonstration of revolutionary computer-vision technology.
The company? A Carnegie Mellon University spin-off, Pittsburgh Pattern Recognition (PittPatt).
Recently acquired by Google, PittPatt offers state of the art face recognition, tracking and detection capabilities.
Its software is used in products for photo organization, video organization, security, entertainment, robotics, privacy protection and government.
In 2004, after more than a decade of research, alum and former CMU Robotics Institute professor, Dr. Henry Schneiderman (E'90, CS'00), founded the company. He wanted to bring his work into the public domain.
"When I went back to grad school, it was to develop technology that would be useful," explained Schneiderman.
"I want to get the technology out there in the world. I'm the sort of person that likes to see things work and really be useful."
The applications are numerous. They range from simple photo organization, to security, to complex web video search.
One government entity scans video from worldwide news broadcasts to identify segments with intelligence significance. Another company uses the software to identify actors in their large archive of broadcast TV and commercial movies.
A popular demo on the company's website allows a user to navigate all three seasons of Star Trek by favorite character — identifying who gets the most camera time.
Joining Schneiderman on PittPatt's management team are two colleagues from his days of graduate study: Dr. Michael Nechyba (CS'98), also from the Robotics Institute, and Dr. Michael Sipe (E'99) from electrical and computer engineering.
Since 2004, CMU has doubled the number of start-up companies created by its faculty and students and now stands as one of the fastest growing entrepreneurial institutions in the United States.
CMU recently introduced "Greenlighting Startups," a new initiative aimed at accelerating the university's already impressive record of turning campus innovations into sustainable new businesses.

Related Links: Wall Street Journal Blog | PittPatt.com | Greenlighting Startups | School of Computer Science
---