Dijital Progress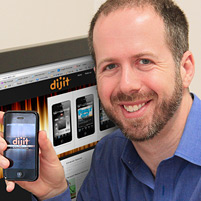 Jeremy Toeman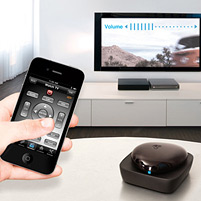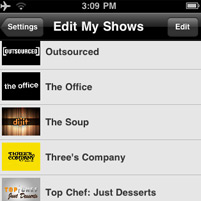 Ever try to watch a DVD, only to find your TV is on the wrong input, you've got five remotes on your coffee table, and no one can help solve the problem?

Jeremy Toeman (HSS'96) has your answer — a free app that turns your smart phone into a universal remote and much more.

Toeman recently became the Chief Product Officer at Dijit Media, founded by fellow Carnegie Mellon alum Maksim Ioffe (CS'02). Ioffe, Founder and CEO of Dijit, started the company in 2009, frustrated at the lack of innovation in the convergence space.

"Here I was with 21st century computers, phones, tablets, and TVs, yet using remote control technology that pre-dates the 1980s," observed Ioffe. 

He bootstrapped the company, working out of his San Francisco apartment, for over nine months prior to receiving seed financing. 

In June, Ioffe expanded the management team to include Toeman.

"Dijit is going to solve a point of daily frustration in home entertainment — and then we're going to add a lot more," said Toeman.

By itself, Dijit's Universal Remote App for iPhone — soon to be available for the iPad and Android-based tablets and phones — controls WiFi-connected devices like the Roku set-top and the new 'smart' TVs — a rapidly growing segment of televisions with built-in internet connectivity.
The app also offers a personalizable electronic program guide, eliminating, for example, all those channels you never watch.
 
Dijit has also partnered with iPhone accessory giant Griffin Technology to build the Beacon.

The Beacon is an infrared blaster that connects over Bluetooth with Dijit's app and controls all of your entertainment devices. The product launched in June and is available nationwide in Apple stores as well as online.

The Dijit app has already been downloaded more than half a million times.

Toeman notes that in the near future, Dijit will provide a deeply integrated entertainment experience.

"We see the future of entertainment as four screens: your TV, your tablet, your computer and your cell phone. You'll watch movies on your iPad, YouTube on your TV, connect to Netflix, Hulu, VUDU, and more. You'll use social tools like Twitter and Facebook to find new content recommendations as well as share your own favorites — all linked to the same button you use to change the channel."

Toeman began his first startup company, Focus Consulting, designing early websites from his off-campus apartment before he'd even graduated. Since then, he's been involved with a number of start-ups, including success as Vice President of Products at Sling Media — building the ground-breaking Slingbox, a remote television device.

He's also worked with and built products for other digital entertainment companies like Denon, Pioneer, HP, Boxee, Clicker.com, and more.  Jeremy's products have won three "Best of Show" awards at the annual Consumer Electronics Show, as well as a technology Emmy Award.

As he puts it, "At heart I'm a product guy. I love figuring out how to make complicated technology usable by regular people, in a way that entertains them. In my eyes it's all about the end user experience — technology shouldn't frustrate, it should delight."

In addition to building products, Toeman is an active mentor to young entrepreneurs. He is very enthusiastic about CMU's new Greenlighting Startups Initiative — a coalition of campus incubator groups designed to accelerate CMU's already impressive record of turning campus innovations into sustainable new businesses.

"CMU gave me the sense that if I want something to happen in life, I should make it happen," he said. 

Toeman is a mentor for 500 Startups, a Silicon Valley technology incubator, as well as FounderFuel, a Montreal-based incubator.

When Toeman and Ioffe met early in 2011 through a San Francisco-based venture capitalist, they shared many stories and history from their days at CMU. 

"The brand of being a CMU alum also means a great deal. It constantly opens doors for me in Silicon Valley," said Ioffe.

As a matter of fact, Dijit would be thrilled to hire CMU grads.

Said Toeman, "Maksim and I would hire CMU grads ahead of anybody — anybody, anytime, for whatever we were seeking."
Related Links: Dijit | Download the app | Beacon | Toeman's page | Toeman's blog | Greenlighting Startups
---