Deeply Creative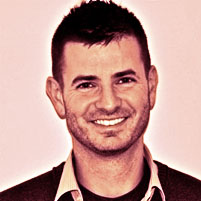 Nathan Martin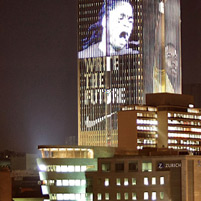 A text-printing robot. A trash-talking soccer ball. Just another day's work for Nathan Martin (A'99).

Martin is the founder and CEO of Deeplocal, Carnegie Mellon University spin-off that's hard to pigeonhole. A collaboration of artists, designers and engineers, Deeplocal spans disciplines to spark innovation. 

Founded in 2006, the company is best known for its creative branding strategies that bridge the buzz of the Internet with the excitement of engineering vision.

Martin was strongly influenced by his art studies as a Carnegie Mellon University undergrad. As a later artist-in-residence, his interdisciplinary online mapping project spawned Deeplocal.

"I was very lucky to go to CMU," said Martin. "The education was fantastic. The art school taught you how to think; that what can differentiate you is the idea. And it had something other art schools didn't — the engineering program. For a geek at heart like me, I could truly explore."

Martin added, "CMU's unique strength in art, technology, and business gives its students and staff one of the top environments to become the new innovators of the world. With support from CMU, I was able to go from artist to researcher to entrepreneur without losing my passion or focus.

 "I try to create a similar environment here — a safe environment where we can take risk and experiment," explained Martin. "You can always find a technology. In some ways that's the easier part. More than anything else, we try to support art, innovation and creative thinking."

It clearly works. Deeplocal clients now include the likes of Nike, Volkswagen, Gap and CMU's own GigaPan.org.

The company is teaming up with Toyota again for the automaker's 'Ideas for Good' campaign — Toyota's effort to share innovative automotive technologies with the "world outside of cars."

In one demonstration, Deeplocal illustrated the braking system's ability to recapture kinetic energy. Crafting a roller coaster track and cart from Prius parts, the energy illuminated amusement park lights.

In another, they constructed a cooling disaster-relief tent using the Prius solar-powered ventilation system.

Recently, Deeplocal worked with CMU professors and students to turn five contest-winning ideas for other Toyota technologies into workable prototypes. (Learn more about Your Ideas For Good Winners.)

Maintaining close ties to both the university and Pittsburgh, Martin steered the build to CMU. He and his colleagues often come to speak on campus.

"We're an interesting local company that shows you can be a geek and artsy, too," Martin explained. "That's something that a lot of kids want — creativity and practical engineering, too."
Related Links: School of Art | Deeplocal | Greenlighting Startups | Watch: hybrid roller coaster | Watch: solar powered ventilation
---