Third Time's a Charm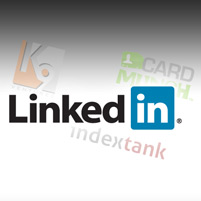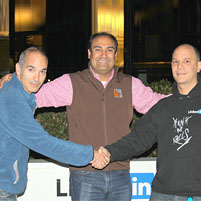 Diego Basch, Manu Kumar, Daniel Tunkelang
Just two years ago, Carnegie Mellon University alum Diego Basch founded hosted search service, IndexTank. Just weeks ago, networking giant LinkedIn acquired the company — its third purchase of an innovative startup with CMU ties — in 14 months.

Basch's own story is brimming with CMU connections.

He met Manu Kumar (E'95, CS'97), entrepreneur and angel investor, while earning his masters in software engineering at CMU. After graduation, Basch joined Kumar's first startup, SneakerLabs.

In his spare time, Basch indulged a fascination with search technology by building his own engine.

"I showed it to one of my CMU professors, who was working for search engine software company Inktomi at the time," said Basch. "Long story short, Inktomi hired me and licensed my software."

As he spent the next decade in the field, Basch recognized an untapped need. He began IndexTank, bringing Kumar onboard as investor and advisor.

"My consulting company had been building custom search engines for many big customers," Basch explained. "We understood the market very well and responded to the similar needs of smaller companies by creating a self-serve, scalable search service that grew to thousands of customers."

Kumar, noting their common interests, introduced Basch to another friend and CMU alum with search expertise, Daniel Tunkelang (CS'98). Soon thereafter, Tunkelang signed on at LinkedIn.

"We'd had a few very interesting conversations about all the value that can be added by improving search for a company like LinkedIn," noted Basch. "That made me excited about some unique challenges that don't exist anywhere else."

After several meetings between company leaders, a deal was hatched.

"We shared a vision of what search should be and our technology was a great fit," said Basch. "LinkedIn's vision is to connect people with opportunity — other users, jobs, news etc. — quickly and efficiently."

And LinkedIn's vision apparently includes CMU-associated startups.

In August 2010, the company made its first acquisition with mSpoke, a provider of personalized content recommendation co-founded by a CMU alum.

Five months later, it purchased CardMunch, a business card transcription service co-founded by three other alums and Kumar, who had also provided seed funding.

Carnegie Mellon continues to encourage and nurture cutting-edge startups like these through Greenlighting Startups, a consortium of incubators designed to accelerate the university's impressive record of turning campus innovations into sustainable new businesses.

Basch looks back on his own time at CMU with appreciation.

"My professors were great mentors who taught me how to build solid software," he said. "I learned the basics of information retrieval for my masters project. I could not have done this had I not gone to CMU."
Related Links: IndexTank | LinkedIn | K9 Ventures | Software Engineering Masters Programs
---