Michalek Wins Early Career Award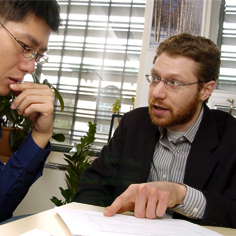 Carnegie Mellon's Jeremy J. Michalek (E '99) has received one of the National Science Foundation's most prestigious honors — the Faculty Early Career Development Award. The award recognizes the early career teacher — scholars who are most likely to become the academic leaders of the 21st century.
Michalek will use the five-year, $400,000 grant to analyze how public policy — such as fuel-economy standards — could determine which types of more efficient vehicles are built in coming years and how consumers might respond to these new models.
"Our aim is to understand tradeoffs in the capabilities of new technologies and predict what consumers will buy and how profit-seeking automakers will respond in the regulated marketplace," said Michalek, who also directs the Design Decisions Laboratory at Carnegie Mellon.
His research comes at just the right time. With a $1 per gallon jump each of the last two springs in many places across the United States, industry experts are again predicting a spike this year. The increases, starting as early as February in southern California, could push the average national price to a record $3.50 a gallon or more by June.
U.S. officials have been pushing the auto industry to investigate alternatives to fossil fuels. The recently passed Energy Independence and Security Act contains strict emission standards and goals for increasing development of renewable fuels.
Michalek is the sixth assistant professor in Carnegie Mellon's Department of Mechanical Engineering to receive the honor.
Related Links: Related Story  |  Mechanical Engineering  |  Design Decisions Laboratory  |  College of Engineering
---