Team Refines Craft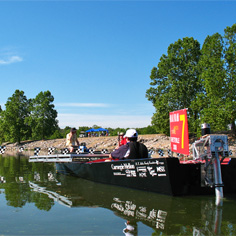 Andrew Choate (E '08) stood by the Solar Splash boat, explaining to passersby the vessel's solar-system design. Built by a team of 20-some Carnegie Mellon students, Choate's presentation was part of the recent Meeting of the Minds — an annual undergraduate research symposium.
Choate, a mechanical engineering graduate and the team's president, explained why so many students are in the organization.
"Unlike some projects, you get your hands dirty," Choate said, gesturing toward the boat and revealing paint-flecked fingernails. "I was covered in red paint yesterday."
The interior of the Solar Splash boat gleamed red. It was spruced up for the symposium, but also for the races with other university solar-powered boats across the country in which the boat competes.
The vessel was one of many projects displayed during the event, which is sponsored by Carnegie Mellon's Undergraduate Research Office.
While some students involved with Solar Splash are engineering students who receive credit for the work, most receive no credit to participate. They participate out of a desire to make a positive difference on the environment and sometimes just the sheer enjoyment that comes with interdisciplinary collaboration.
Sophomore chemistry major Riddhi Roy, who has participated in the club since she was a freshman, said she likes to be involved in a task that is interesting and different from her studies.
"I wanted something that wasn't chemistry-related," she said.
Roy worked on hull optimization of the boat, one of a few research areas that are being investigated as part of the project. With cumbersome solar panels, the craft's shape is an ongoing challenge in efficient design.
Roy explained how she created and analyzed computer models of the boat, changing parameters to see what form might optimize the hull and allow the least amount of drag. She will do more modeling of the boat next school year, she said.
The Solar Splash team plans to continue to build off of previous experiences in the coming year.
Photo taken by Mark Fuge, president of Solar Splash for '08-'09.
Related Links: Solar Splash  |  Undergraduate Research Office  |  Meeting of the Minds
---