What College is Really About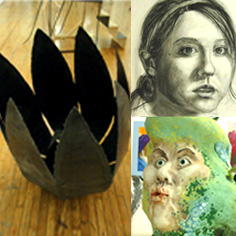 Sure there are exams and lots of late-night studying, but what's college really all about? The pre-college program at Carnegie Mellon gives high school juniors and seniors a chance to find out in true Carnegie Mellon-style — learning by doing.
"The pre-college program provides high school students the opportunity to test drive the true college experience while exploring their concentrated discipline," said program director Beth Yazemboski. "It allows the students to determine if the field is an area that they wish to continue to pursue within their undergraduate studies."
For six weeks during the summer, students are invited to explore one of seven programs including architecture, art, design, drama, music and even gaming. Many see it as a chance to make new friends, explore new ideas and learn all there is to do in the city of Pittsburgh.
Participants learn new ways of thinking from Carnegie Mellon's distinguished faculty and join discussions with accomplished professionals in a variety of fields. They can also develop impressive portfolios, are introduced to the latest technology and hone public speaking skills.
The experiences are designed to give the students the edge they need to be successful in their first year at college.
Through the university's Advanced Placement/Early Action (AP/EA) program, students interested in getting a head start in college have the option of taking two challenging college courses in order to gain advanced placement.
"The academic units earned in the AP/EA program can be applied toward graduation requirements," Yazemboski explained. "At the end of the program, students have the opportunity to decide which grades they would or would not like to be kept on permanent record at Carnegie Mellon."
She added, "In this respect, the program offers students a no-risk opportunity to test their skills at the college level."
Want more info? Listen to students and faculty from past summers as they share their experiences about this one-of-a-kind opportunity on the media page.
Related Links: Watch Video  |  Prospective Students  |  Advanced Placement/Early Action
---