Sculptor Inspired by Science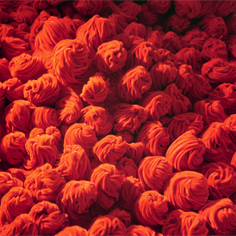 When Carnegie Mellon senior art student Lisa Huyett placed a rose petal into a scanning electron microscope (SEM), she was fascinated by what she saw.
The image inspired her to create "S.E.M. Rose," an art installation that represents the petal's bristly surface. The piece is on exhibit at the Children's Museum of Pittsburgh during the month of March.
"All of my work is inspired by nature and plant material," explained Huyett, who explores the intersection of art and science. "Patterns in nature give me inspiration for abstraction. It is a jumping-off point for my art."
Under the guidance of Electron Microscopist Joseph Suhan in the Mellon College of Science, Huyett used the SEM to magnify a rose petal 500 times. The resulting image revealed bristly, knob-like structures that make up the velvety appearance of the petal. She then replicated these buds by creating modules out of pipe cleaners, working with children who were part of the museum's Saturday workshop series. Each module is composed of 100 pipe cleaners.
Her experiment was part of an art studio and biology laboratory course through which students study the fusion of art and biology. The course is taught by Carnegie Mellon's Patricia Maurides, who is an adjunct assistant professor in the School of Art.
"The course gives a multidisciplinary group of students the opportunity to work together as they explore relationships between the fine arts and biological sciences," Maurides said. "They use imaging technologies to create artworks that may range from animations and sculpture to artist books and performance works."
The public will have an opportunity to add to the installation from 1 p.m. to 3 p.m., March 24 and 31 at the museum. The opportunity is free with museum admission. Huyett will later move her work to the FRAME Gallery, located at 5200 Forbes Avenue. A closing reception will be held at the museum on March 30.
Related Links: School of Art  Mellon College of Science  Children's Museum of Pittsburgh