Simulation Shows Best Pic to Date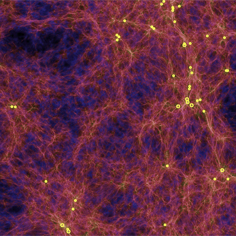 An international team of scientists led by Carnegie Mellon University has produced an unprecedented simulation of the evolution of the cosmos. The simulation incorporates the physics of black holes into a highly sophisticated model running on a powerful supercomputing system.
Called BHCosmo, it may help guide users of future telescopes as they try to untangle the history of the universe.
"Ours is the first simulation to incorporate black hole physics," said Tiziana Di Matteo, a theoretical cosmologist and associate professor of physics in Carnegie Mellon's Mellon College of Science.
According to Di Matteo, previous simulations did not take black holes into account despite the fact that they play an important role in regulating galaxy formation, and ultimately, the fabric of the universe. The reason is that the computing demand was prohibitive.
She added, "It is very computationally challenging, involving more calculations than any prior similar modeling of the cosmos, and the result offers us the best pictures to date of how the cosmos formed."
Di Matteo performed her simulation using the Cray XT3 system at the Pittsburgh Supercomputing Center, the most powerful system available via the National Science Foundation's TeraGrid and a joint effort of Carnegie Mellon University and the University of Pittsburgh together with Westinghouse Electric Company.
Di Matteo's collaborators included Jörg Colberg at Carnegie Mellon; Volker Springel and Debora Sijacki at the Max Planck Institute for Astrophysics; and Lars Hernquist at Harvard.

Related Links: About Tiziana Di Matteo  |  Related Story  |  Mellon College of Science
---