Discovery Could Help Patients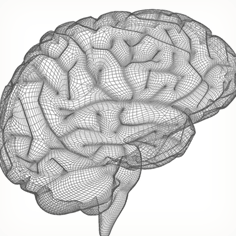 Chemists at Carnegie Mellon University have solved a decade-long molecular mystery that could lead to drug therapies for epilepsy and Alzheimer's.
Drug therapies for these and other similar diseases rely on the interaction between glutamate—a signaling molecule released by other neurons—and a receptor, or proteins found in neurons. When these two things interact, a series of shape changes occur at the molecular level that open and excite the neurons.
But before now, nobody knew precisely what atomic interactions between glutamate and the receptor caused the receptor to switch from open to closed. Using intensive calculations, Carnegie Mellon scientists have made that discovery.
"Typically, pharmaceutical companies may scan hundreds of potential drugs to find one that has the desired affect," said Maria Kurnikova, an assistant professor of chemistry in Carnegie Mellon's Mellon College of Science. "Determining how drugs interact with the glutamate receptor's ligand-binding domain in a computer model would save tremendous time and money in the drug-development process."
Tatyana Mamonova, a post-doc fellow in Kurnikova's lab, discovered two key electrostatic interactions that will allow researchers to begin modeling the binding-site closure and opening. Mamonova presented a report on the research Aug. 22 at a national meeting of the American Chemical Society in Boston.
For her research, Mamonova frequently relied on the high-performance computing power at the Pittsburgh Supercomputing Center, a joint effort of Carnegie Mellon and the University of Pittsburgh together with Westinghouse Electric Company.
"Ultimately, we could use the computer model to design a drug that either inhibits or enhances the activity of the glutamate receptor," Kurnikova said.
This work is funded in part by the National Institutes of Health and a National Science Foundation Partnerships for Advanced Computational Infrastructure award.
Related Links: About the Kurnikova Group  |  Pittsburgh Supercomputing Center  |  Mellon College of Science
---