Award-Winning Engineering Profs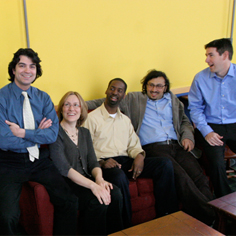 In a record achievement, Carnegie Mellon's Department of Mechanical Engineering went five for five. All five assistant professors hired during the two-year academic years starting in 2002 are now winners of the National Science Foundation's prestigious Early Career Award.
"This is an outstanding record for our department, and we are very proud of it," said Carnegie Mellon's Nadine Aubry, who heads the department. "It is also a reflection of our interdisciplinary nature, with the five awards being in all different research areas and awarded by six different NSF programs."
The latest recipient is C. Fred Higgs III, who will use the five-year, $400,000 grant to develop sophisticated computer models that can predict friction problems on materials used in semiconductor and data storage devices, as well as hip and knee replacements.
"My research could help eliminate costly material testing during [the smoothing process] in the ongoing race to produce smaller and faster integrated circuits," Higgs explained.
Another of the winners, Burak Ozdoganlar, is applying mechanical engineering principles in new ways in the manufacturing world. Ozdoganlar is seeking a better understanding of mechanical micromachining processes, which use miniature tools to perform operations such as milling, turning and drilling at the micro scale. Applications include the manufacture of medical devices, biomedical equipment, military and defense systems, aerospace systems and consumer products.
"Metals that are commonly used in engineering applications have grain sizes that are commensurate with the size and scale of micromachining. Therefore, their effects cannot be overlooked," Ozdoganlar said.
Rounding out the winner's circle are Shelly Anna, Metin Sitti and Philip LeDuc.
Anna's work explores microscopic defects in layered liquids, the presence of which impacts a broad range of industrial applications including coatings, adhesives, pharmaceuticals and food products.
Sitti's work is expected to improve the understanding of nanoscale physics and dynamics for reliable nanorobot design, eventually leading to the development of advanced human-machine user interfaces.
LeDuc is focused on the link between mechanics and biochemistry at the cellular and molecular interface. He received his grant to study the structure inside a living cell — work that is important to cancer and heart disease research.
Each of the NSF grants provides around $400,000 in funding for a period of five years.  
Photograph (left to right): Burak Ozdoganlar, Shelly Anna, C. Fred Higgs III, Metin Sitti and Philip LeDuc
Related Links: Mechanical Engineering  |  NSF
---