The Regina Gouger Miller Gallery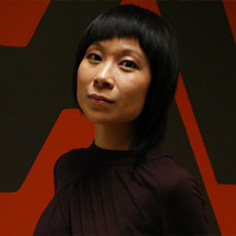 Astria Suparak moved to Pittsburgh recently amid a flurry of activity. She was ready to hit the ground running in her new position as director of the Regina Gouger Miller Gallery.
The gallery has been open since January 2000 on Carnegie Mellon's Pittsburgh campus, and occupies 9,000 square feet in the university's Purnell Center for the Arts.
Established with the vision of furthering the growth, creation and understanding of contemporary art, the venue is named for Regina Gouger Miller (A'59), an avid art collector, watercolorist and a 2002 recipient of a Carnegie Mellon Alumni Service Award. Miller is currently a trustee and member of the School of Art Advisory Board. Miller and her husband, Marlin, are also members of Carnegie Mellon's Highlands Circle leadership giving society.
Through exhibitions, projects, events and publications, the space is a home for artistic experimentation and discovery.
The gallery aims to appeal to a broad and diverse audience — to stimulate and promote discussion, potentially bringing together diverse communities through art. Not surprisingly, the gallery is free and open to the public.
The new director is known for her cutting-edge exhibitions using a variety of media. Suparak's background is that of an artist, but she also has extensive and varied experience as a curator.
She explained, "As a curator, I've presented work at venues internationally, from museums, biennials and universities to artist-run galleries, microcinemas and rock clubs."
Suparak spent the last two years with a new contemporary art gallery at Syracuse University, "creating an identity for it, raising its national profile and bridging various communities both on campus and across the city." In this regard, she believes her new role at the gallery is a particularly good fit.
She hopes to position the Regina Gouger Miller Gallery as a key player on Pittsburgh's cultural landscape and to collaborate with other organizations, from the local to the international.
"I plan to combine my ability to work on a grassroots level, including site- and city-specific programming and collaborations, with a quality and edginess that attracts attention," said Suparak.
Related Links: The Regina Gouger Miller Gallery  |  MFA Thesis Exhibition Through April 20  |  College of Fine Arts
---