Three Days of Exploration and Creativity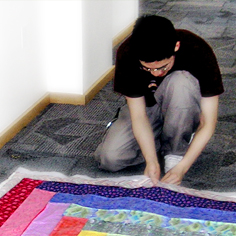 Before spring semester gets underway, Carnegie Mellon students are exploring a variety of personal interests just for fun-from the art of balloon twisting to survival in the wilderness. The activities are part of Summit 2007, held on the Pittsburgh campus Jan. 11-13.
Organized by students for the campus community, this free event is also sponsored by the Graduate Student Assembly, the Student Senate, the Student Dormitory Council, the Office of the Dean of Student Affairs and the Student Development Office.
Other classes offered to students who have registered for Summit include acrylic painting, juggling, poker, Reiki massage, Chinese lantern-making, auto mechanics 101, West African dance, glass-blowing and improvisational comedy, among many others. 
"The first Summit in January 2005 was dubbed a success, with nearly 120 participants," said Sandra Ma, student coordinator of the annual three-day event. "Since then, we've more than doubled our participation."
Sandra's brother Roger (TPR '05) developed the program after a friend, who was also a business major, expressed disappointment over being unable to take woodshop classes during his regular school year.  Scheduling conflicts wouldn't allow it.
"Roger wanted to create a program where Carnegie Mellon students could learn about a variety of topics that they may not have an opportunity to learn during the academic year," added Ma. "Summit offers them an exciting, pressure-free environment in which to learn and grow."   
Sandra encourages everyone to try to attend Summit at least once before graduation and adds that new classes are offered each year along with the old favorites.
"As busy Carnegie Mellon students, often times I think we tend to overlook the vast opportunities and experiences available to us," she said. "We have to keep in mind that there is more to college than just academics-it's about learning about yourself and exploring new opportunities. Before you know it, college will be over and it will be time for the real work."
Related Links: Summit  |  Student Activities
---