More Prospective Undergrads Applying to Carnegie Mellon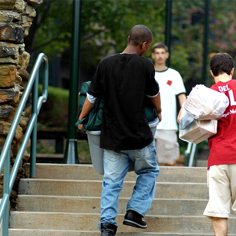 Carnegie Mellon saw record numbers of prospective undergraduate students applying for the 2007-2008 school year.  More than 22,000 students applied for 1,360 available seats.
The numbers represent a 19.2 percent increase over last year's numbers, which were also record-breaking.
"It's an amazing increase, really," said Mike Steidel, director of admission, who believes the increase is a result of Carnegie Mellon's continued recognition as a leader in education and research.
Stephanie Sindler, an undergraduate early decision applicant who will be entering the Mellon College of Science this fall, is excited to get started. Her love of science stems from reading her dad's Discover magazines when she was younger.
"Those articles led me to read about all kinds of other scientific topics. Lately, I've been interested in the human brain and how it works," she said. "We don't know much about the human brain, yet our computers are modeled after it. I'm hoping that when I get to Carnegie Mellon, I'll be exposed to all kinds of new things to become interested in, things I haven't heard of before."
With centers and faculty renowned for advancing work in neuroscience, Carnegie Mellon is a premiere destination for students like Sindler.
She hopes more young women look to science as a career path. "I know very few women who are interested in science; there should be more," she said.
Having participated in high school plays, she is also looking forward to being on a campus where the arts, science and technology are all under one roof. "I don't know if I'll get to be in any plays, [but] it'll be fun to be around actors and musicians while I'm studying science," she explained.
Given Carnegie Mellon's unique approach to interdisciplinary programs and opportunities, Sindler may very well get her time both on the stage and in the labs. 
Related Links: Undergrad Admission  |  Mellon College of Science
---