Making the Connections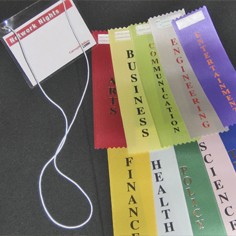 It's a big world out there. Through a program called Network Nights, Carnegie Mellon is working to make the world a little smaller for alumni and students.
Network Nights events have been bringing employers and jobseekers together for more than 20 years. These after-work receptions — which are open to undergrads, grads and alumni — are held annually in major cities like Boston, Chicago, New York, Pittsburgh, San Francisco and Washington. Their success and popularity have led to the addition of Los Angeles and Seattle to the 2007 schedule, as well as sponsorship by Google and Microsoft.
Of course, meeting new people requires an ice-breaker, so organizers prepare name tags for the participants that identify them as a student, employer or alum. By choosing to attach to the tags one or more colored ribbons that indicate their field or fields of interest, everyone immediately becomes more approachable.
Some of the receptions also have a specific focus such as public policy, technology or the arts.
"I attended Network Nights in Seattle," said Carnegie Mellon alumnus Obaid Khawaja. "The event was very well organized. The organizers were present in the background, ready to answer any questions yet allowing things to take their course."
Khawaja added that the reception served as a great reminder that Carnegie Mellon alums continue to go places.
With an ambitious spring schedule that includes Washington, D.C., New York, Boston and Chicago, the events continue to attract jobseekers from Carnegie Mellon's seven colleges and interdisciplinary programs — as well as employers with internships and permanent positions.
At $15 per person, the receptions are an efficient and cost-effective opportunity for people to make the connections they are seeking.
Related Links: Network Nights  |  Corporate Relations  |  Alumni Career Center
---