MechE Alum Steers the #19 Nextel Cup Team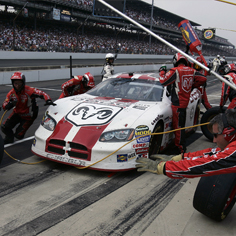 Evernham Motorsports recently promoted Carnegie Mellon alumnus Josh Browne (E '93) to crew chief of the No.19 Nextel Cup racecar.
And despite being challenged every day — with engineering, data analysis, track testing, simulation and race strategy — he credits the challenges he faced at Carnegie Mellon for preparing him for his current role. He's even been known on occasion to reference several of his undergraduate texts.
"I work in a fairly intense business," said Browne. "The theory and fundamentals that were taught to me at Carnegie Mellon have given me a basis to draw upon when addressing technical challenges on the racecar."
In his previous role as director of vehicle dynamics, he managed a staff of engineers who use computer simulation tools to maximize the car's performance.
"At Evernham Motorsports, we use computer simulation to lead most of the decisions that we make on the racecars," he explained. "Our engineers and programmers are continually updating our in-house programs. We've had to develop custom simulation tools in order to capture some of the unique traits of a NASCAR Nextel Cup racecar."
Competing every weekend means Browne gets to see the results of the team's work every Sunday (or Saturday night). He believes high-level motorsports is a great training ground for young engineers.
"You're in an environment that allows you to use many of the things that you learned in your coursework, and it is competitive and usually a lot of fun."
Photo by Getty Images; Posted Spring 2007
Related Links: Dept of Mechanical Engineering  |  College of Engineering
---