Carnegie Mellon University Across the Stever Generations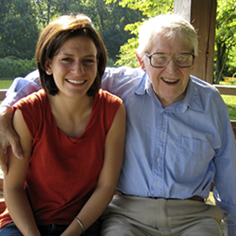 A star soccer player at Carnegie Mellon glances up into the stands at Gesling Stadium and sees her grandfather smiling proudly. She beams brightly, confirming the bond they share and recognizing the special effort it took for him to travel all this way to see her play in a college game.
She is Kasey Stever (A '08) and her grandfather is former Carnegie Mellon President Guy Stever. With graduation around the corner, Kasey and her father, Roy, recently joined Guy — who is now 91 — in reflecting on what sets Carnegie Mellon apart.
"Carnegie Mellon is one of the few schools I looked at where I could study a specific area of interest," said Kasey, who is an industrial design student at the School of Design. "It's one of the top ranked universities in the country for my major, and on top of all the academic plusses, they have a perfect soccer program."
The leading scorer for the Tartans in 2006, Kasey broke five school records and was recognized as Player of the Week by the UAA Conference for her performances against NYU, Brandeis and Juniata College. She again distinguished herself in 2007, figuring in 75 percent of the team's game winning plays. She also tied as leading scorer.
Kasey shares close relationships with her teammates — whom she refers to as her best friends — and likes that she and her grandfather share athletics in common.
"My grandfather was the quarterback on his undefeated high school football team," she explained. "I believe he used his unusual insight to see opportunities on the field, as I think I do. He really enjoys getting to see me play."
Among his many recollections, Guy pointed to the university's absolute commitment to innovation as what sets it apart from other schools — not just as an initiative but as an underlying core value.
"In every facet of the university's life, you can see tremendous progress, from the buildings to research and student life," Guy said. "I am very proud to have been a part of Carnegie Mellon's history and think it is just great to have Kasey here."
Roy noted that sitting astride two generations of Tartans, his own enthusiasm seems to only strengthen with time.
"Kasey speaks with equal enthusiasm about a learning community that has magically brought together her life-long passions for creativity and competition," Roy said. "When Dad and Kasey get together, the conversation is always fun and engaging."
Kasey's freelance design work for Novelis Corporation has garnered global acclaim within the company. In 2007, her talent coupled with her Carnegie Mellon education earned her an internship with leading architecture and design firm Burt Hill.
"I have had the most wonderful college experience at Carnegie Mellon in terms of academics, athletics, friendships and unique opportunities. I would not trade it for anything in the world," Kasey said. "My time here is incomparable to anything else, and it is all thanks to the support and encouragement of my family."
Related Links: Read More About Kasey  |  Soccer Highlights  |  Industrial Design  |  College of Fine Arts
---